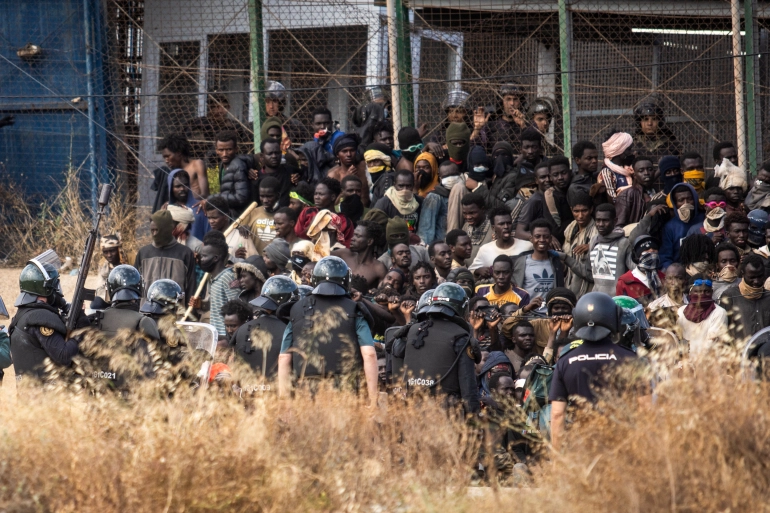 Human rights groups in Morocco and Spain have called for an investigation into the deaths of 23 people during an attempted mass crossing into the Spanish enclave of Melilla in northern Africa.
Authorities said the individuals died on Friday as a result of a "stampede" after about 2,000 people tried to climb the iron fence that separates Morocco and Melilla, with some falling in the attempt.
The Moroccan Association for Human Rights (AMDH), in a series of tweets on Saturday, called for a "comprehensive, quick and serious" investigation into Friday's events and published videos of the aftermath of the attempted mass crossing.
The footage showed dozens of people lying by the border fence, some bleeding and many apparently lifeless as Moroccan security forces stood over them.
In one of the clips, a Moroccan security officer appeared to use a baton to strike a person lying on the ground.
The AMDH said many of those wounded "were left there without help for hours, which increased the number of deaths".
It also gave a higher death toll than the figure provided by the Moroccan interior ministry, saying 29 people were killed, but the figure could not be immediately confirmed.
Five rights organisations in Morocco and APDHA, a human rights group based in the southern Spanish region of Andalusia, also backed the call for a probe.
They urged authorities not to bury those killed until after formal investigations.
There was no immediate comment from authorities in Morocco on AMDH's allegations, but an unnamed Moroccan official told the Reuters news agency that security personnel had not used undue force during Friday's events.
(Aljazeera/various news agencies)