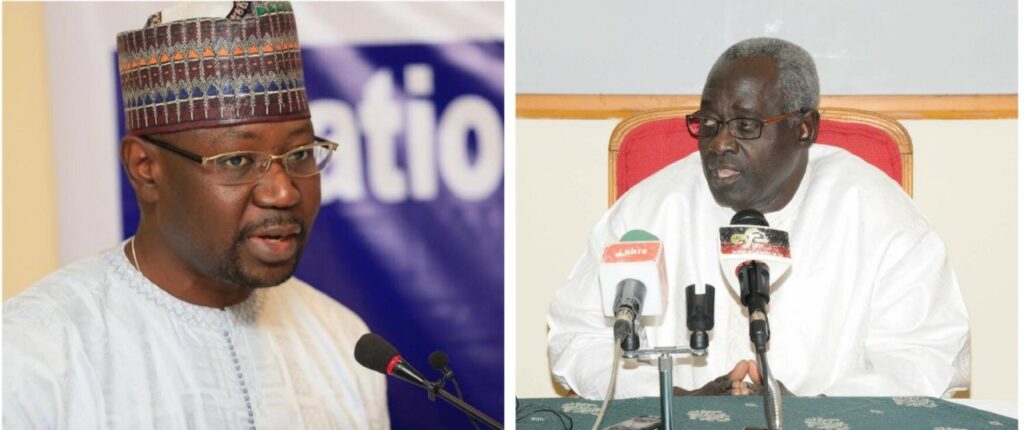 Clarification on interview conducted by the Kerr Fatou online TV on the Coalition talks.
(Fatou Touray of Kerr Fatou was the host assisted by two other ladies and their guest was Mai Ahmed Fatty).
It has been indicated by Mai Ahmed Fatty that PDOIS' position not to attend the coalition talks as there is no coalition President but an executive one is simply an excuse. He said that consultations were made before appointment of ministers even though he alluded to the fact that the President has hired and fired ministers without giving any reason as that is his constitutional mandate.
What PDOIS has written is irrefutable and should not be distorted. When PDOIS members were invited to the Coalition talks they requested not to be associated with the talks on the ground that we have an executive President and not a Coalition President who hires and fires without consultation with a Coalition.
Coalition political party stake holders contested National Assembly and Council elections on the basis of their party tickets. The political parties have held their congresses and assigned their executives with new mandates, thus causing PDOIS to conclude that there is nothing to be gained by convening a meeting of Coalition 2016 stake holders.
Mai Fatty said there was consultation before appointment of ministers and proceeded to give example of Sidia Jatta and Halifa Sallah being offered ministerial post and therefore they should not claim they were not consulted. Apparently Mai Fatty does not understand the question posed and misread the PDOIS press release.
PDOIS made a statement of fact that Coalition stakeholders were given ministerial posts without consultation as a group and those offered ministerial posts are now being removed without consultation as a group.
Hence the President is exercising his mandate as an executive President. It is therefore his prerogative to say whether he will serve for three years or five years. One does not need a coalition meeting to determine that. PDOIS sees it as a futile exercise to participate in such a meeting.
The second point is the claim that the Coalition is to be blamed for preparing an M.O.U which required the coalition candidate to resign from his party and stand as an Independent Candidate to serve a three year term and not participate in the next following elections.
This is considered to be an act of misleading the public and making the Coalition partners equally faulty. We do not think that this is really a legitimate conclusion unless one wants to say that removing the Jammeh Administration was not necessary. The Coalition arrangement was meant to agree on any term that was not against the law or the Constitution that would bring us as one force to effect change. We have actually done so and have effected change. Now you are proud of the change, but find the method to be faulty, this is simply ridiculous
You should call a spade a spade, to whom maximum trust is given maximum responsibility should be exercised. It is President Barrow who agreed to resign from his party and stand as a Presidential Candidate and implement the terms agreed. There was no Law or Constitution compelling him to resign from his party and stand as a Presidential candidate.
No Law or Constitution is forbidding him to resign after three years and offer not to contest the next following elections. It is not a sign of intellectual honesty to use the Constitution to try to justify a five year mandate. It is within President Barrow's constitutional and legal right to resign after three years or serve for five years. He does not need anybody's endorsement.
However if he chose to be a Coalition president, he would have voluntarily engaged in consultation to effect the agreement that brought about the change of government.
It is also very strange that Mai Fatty is still dwelling on the ministerial appointments and in claiming that PDOIS' Sidia Jatta and Halifa Sallah were offered ministerial posts. What has been categorically made clear by PDOIS was that, the duo never requested for a ministerial post and the relation they have with Barrow is privy to them. What no one can dispute even Mai Fatty is that PDOIS preferred not to hold cabinet posts but offered to serve the country as parliamentarians. Few Gambians doubt that this is in the best interest of the country.
The claim that if Halifa Sallah accepted to be a presidential adviser rather than a National Assembly member, he would have prevented many wrong decisions taken by the Government is a matter of opinion. Mai Fatty should have guarded his opinion so that he will not question his own integrity. At the time the Government had the services of the Attorney General, Mai Fatty and the former Vice President who are all legal luminaries and have the legal clout to guide the president on such legal matters.
Halifa Sallah has always said that one cannot have two presidents in a country, and advice may or may not be taken by a principal in the situation.
Hence it was more secure to give advice from the National Assembly than being under the direct control of the executive. Hence people like Mai Fatty should stop shifting the goal post in order to score political points. Such is not a state person like conduct.

Edi Jallow
Administrative Secretary