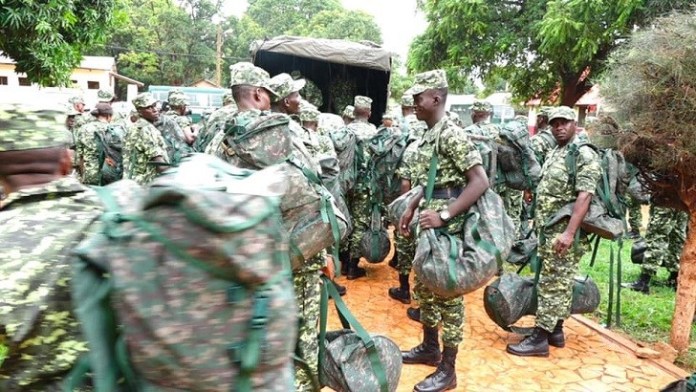 About 150 soldiers of The Gambia Armed Forces have travelled to Senegal on Presidential Guards training.
The contingent which included 9 female soldiers will undergo three months of intensive training on Presidential protection and security.
The soldiers were also accompanied by 35 members of the Police Intervention Unit (PIU).
The soldiers and police will form the new elite Presidential Guards in line with the security reforms of the Barrow administration following the disbanding of the former State Guards of the previous regime.
The chief of Defence Staff, General Masaneh Kinteh, told the soldiers at a farewell ceremony on Wednesday at the Fajara Barracks that their training is for them to better serve the interests of the Gambian people.
"This journey started over two years ago when there was a peaceful change of government in this country for the first time, and there was a need to be able to reconstitute the Presidential Guards that will be there to serve the interest of the people of this country," he said.
CDS Kinteh added: "One of the first moves undertaken by the new administration is to ensure that the former Presidential Guards that was used by the previous regime with some elements used to abuse and violate the human rights of the people of this country be reformed in the armed forces.
"Therefore, there was a need to be able to reconstitute the State Guard Battalion."
CDS Kinteh said this new development means that the security reform is progressing well.
"It may seem to be slow but it certainly going on," he said.