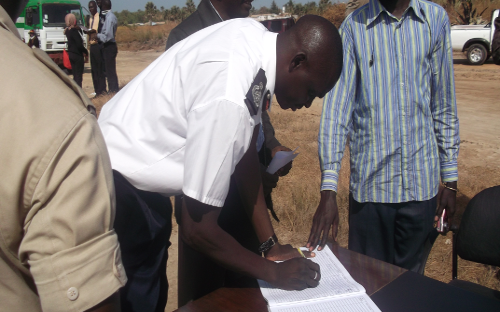 The Gambia Drug Law Enforcement Agency (DLEAG) has dismissed at least 27 officers after failing drug test.
The agency said it has a zero tolerance for illegal drugs use among its officers and randomly embarked on drug testing to weed out undesirable officers.
"The Narcotic Agency instituted a system where a drug test is conducted for every single staff of the DLEAG, which was conducted by an independent consultant led by one Mr. Barrow, and when it was conducted in the initial stage about 27 staff of the Drug Law Enforcement Agency who were found wanting were dismissed," Ousman Saidybah public relations officer said.
He described the dismissed officers' actions as "unfortunate and sad", adding that: "law enforcement officers are paid to enforce the law not to abuse it."
"It is common sense that you're arresting people for something that you yourself are perpetrating. This is why the Agency, when we have suspected cases of drugs abuse in our ranks, conduct drug tests to identify the perpetrators," he said.
According to the PRO, the agency recently embarked on a hiring campaign and that most of the applicants that applied for the driver positions refused to show up for the mandatory drug test.
He said the drug test process will remain and will continue to be used for all recruits and serving officers.
"You cannot be a drug law enforcement officer employed to maintain the law and you becoming the first to break that same law you've sworn to protect.
"More is expected from the law enforcement officers because they are paid to uphold the law of the country and should not use that trust as a license to break the law or abuse the processes of the law. It's very disappointing when that happens."
He stated that the crackdown on drugs also involves other professionals including teachers and soldiers.
He said a teacher and soldier are currently detained waiting for a court hearing after they were arrested for alleged drugs possession.
Reporting by Adama Makasuba