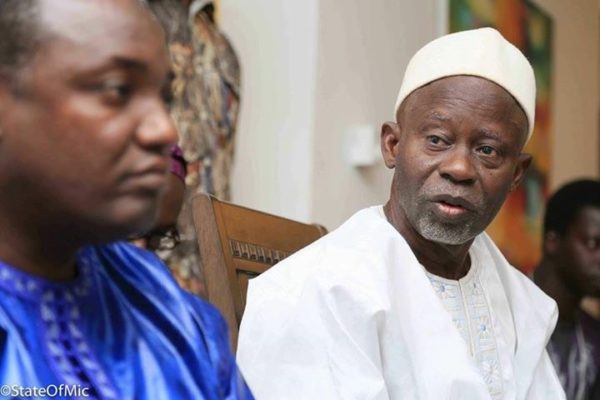 Lawyer Ousainou Darboe has said that President Adama Barrow "killed" the Draft Constitution to pursue his political ambitions.
The leader of the opposition United Democratic Party made the claim during a remembrance ceremony for the late Ebrima Solo Sandeng who was arrested and killed in 2016 by the Jammeh regime for staging a protest demanding electoral reform.
"I said the person who killed this constitution is President Adama Barrow. He killed the constitution," Mr Darboe said, adding that President Barrow should have been honourable enough to have accepted the retroactive clause in the Draft Constitution.
"Here was a person who said 'look I will serve only one term and I will not seek re-election'. Now if you are given an opportunity to seek re-election, why shouldn't you want a clause that prevents you seeking a term? He should be honourable enough," Mr Darboe said.
Lawyer Darboe continued: "If I was President Adama Barrow, I would go to ECOWAS [and] address my colleagues and say 'look this is the promise I gave to the Gambian people that at the end of my five years I am leaving even though I had agreed for 3 years.
"But because of certain [things] that are still on my plate which I wanted to be part of my legacy namely: the security reform and the constitutional review I want them to be part of my legacy and I want to complete them that's why I am going for five years otherwise I would stick to my three years."
Meanwhile, he urged Gambians who think a university graduate is essential for the presidency to campaign for it and ask Gambians to vote out anyone with no university decree.
"If anybody thinks that being a university graduate is essential for the presidency make it an issue in your campaign that look Mr X is not a university graduate so don't vote for him. Because he doesn't have it. The issue of age you take as an issue," he said.
He also promised that the United Democratic Party will ensure the retractive clause is approve in the constitution, adding "If we win in this election, this clause thing we will take and we will campaign with the Gambian people to adopt that clause."
Reporting by Adama Makasuba