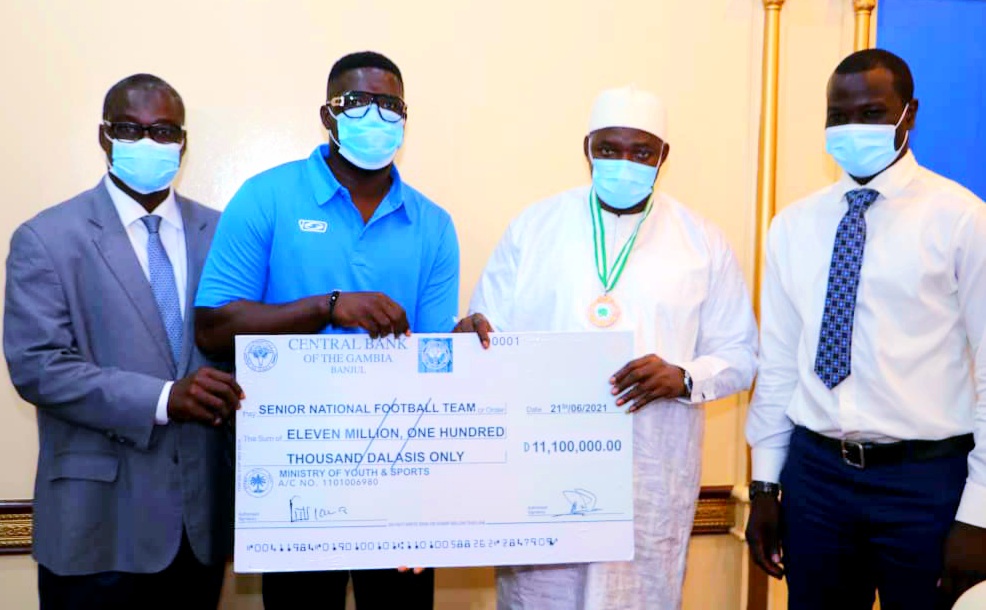 President Adama Barrow has awarded D11 million to the national football team despite players boycotting the ceremony.
The players refused to meet with the president at State House because they believed that they were not adequately compensated for their historic success at the African Cup of Nations qualification.
"The team feels that the respect and motivation given to the players fall below what it is supposed to be. For that reason, the players unanimously decided to decline the invitation," the players said in a letter sent to the Gambia Football Federation (GFF) president Lamin Kaba Bajo.
However the award ceremony went ahead today at State House without the players attending.
Other sports teams including the Under 20 Scorpions and the U-19 National Volleyball team were awarded cash for their successes in international competitions
"The awards are given in recognition of the teams' outstanding performances in various international competitions particularly the Scorpions for The Gambia's maiden qualification in the CAF Africa Cup of Nations finals in Cameroon," State House said in a statement Tuesday.
The ceremony was witnessed by representatives of the various teams, Technicians from GFF and Volleyball team as well as the athletes.