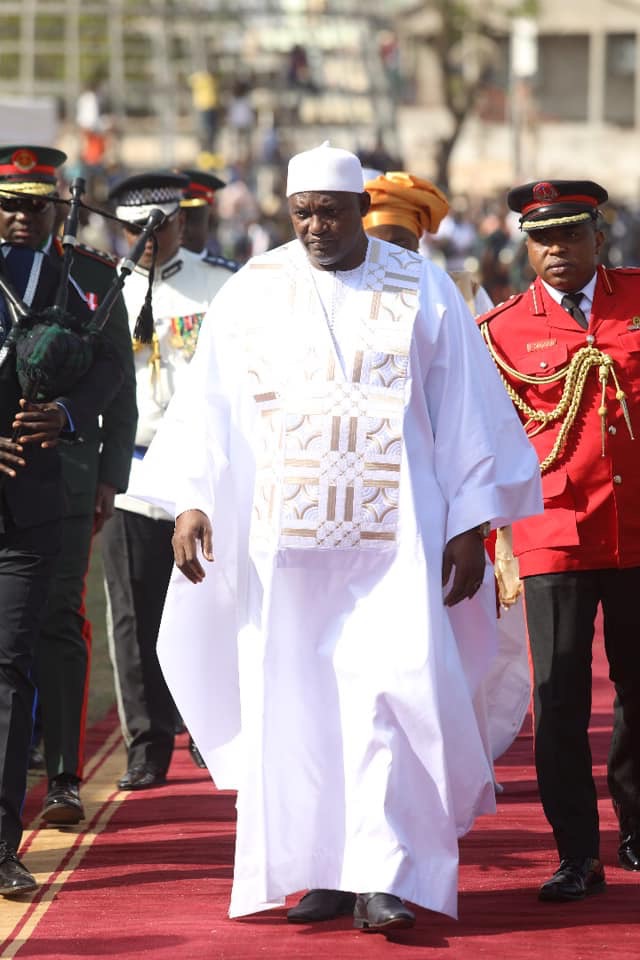 President Adama Barrow has called on Gambians to put aside their tribal differences and work together for the betterment of the country.
President Barrow was addressing thousands of Gambians on Monday at the McCarthy Square in Banjul to commemorate the Gambia's 55th Independence Anniversary.
"Ethnic rivalry is dreadful. I urge all of us to renew our commitment and pledge our firm allegiance to the nation, The Gambia belongs to all of us," Mr. Barrow said.
"Gambians have the moral and civic obligation of safeguarding the future of this country and remember, in the process, that history will judge us, sooner or later.
"Politics is not about the language we speak or the ethnic group we identify with. It is about the nation and its development and future."
The president added: "this should compel us to maintain peace and stability by respecting the rule of law, and allowing justice to take its course.
"Today, we can all look back and, with relief, celebrate and embrace democracy, good governance and the rule of law. This is highlighted by the political excitement that has gripped the nation, resulting in a series of useful dialogue, across-party discussions, and bipartisan solidarity and collaboration."
The president's message received mix reception from Gambians. It is being made at the backdrop of a spike in tribal politics and rancour on the country's direction of travel. Some Gambians feel celebrating independence of the country is "meaningless" as they say more than half a century since the country gained its independence from Britain it is still relying on foreign aid.
Others believe the commemoration is "an opportunity to take stock of the country's progress" since gaining self rule.
Reporting by Adama Makasuba