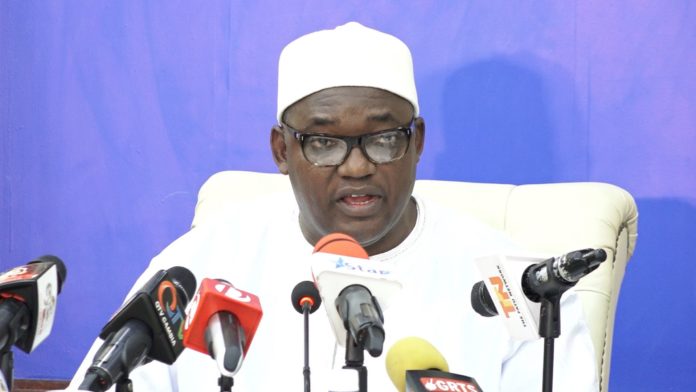 President Adama Barrow has lambasted his critics calling them 'hypocrites' who are making negative comments against him for political gains.
Mr Barrow made the statements yesterday during a courtesy call at State House by a group of Islamic scholars representing the Sheriff Family of West Africa.
The president's statements came days after his political foe, Ousainou Darboe, leader of the United Democratic Party, called on him to step down next month in line with the 2016 Coalition agreement.
Mr Barrow said, in what could be seen as a swipe at his former ally and mentor, that his critics are "tarnishing his reputation as they want to win the presidency.
"They backbite me saying I'm a coward … I can't talk, all these things are said about me and they will (continue to) be said, but it's all about politics because for somebody who had done the campaign (trail) … travelling the length and breadth of the country and succeeded … if you say that person doesn't talk (it) is a lie, it is all about hypocrisy.
"Someone who was selected a candidate to contest against Yahya Jammeh, if you say that person is a coward (it) will be a lie … but all this is a lie, and not all these talks need to be responded to, you have to let them fade and do you work," Mr Barrow added.
According to him, the bitter political attack against his government "is all about the presidential seat, it is not about me, and all the insults are about this presidential seat, but I am hopeful and sure that in as much as I am with the support of the good people who are willing and committed to doing their best for the development of this country – the country will progress by God's grace."
Meanwhile President Barrow has announced that he will embark on a nationwide tour next Monday to promote his 5 year development plan.
He urged the Sheriff family to continue praying for the country's peace and progress.
"I want you to pray for my tour that will start on November 18 where I will tell the country about my five year National Development Plan which will benefit everyone and other plans I have for them.
Reporting by Adama Makasuba