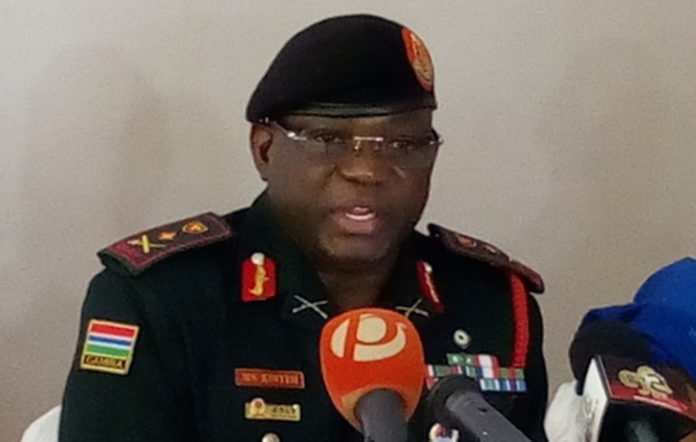 Two soldiers of The Gambia Armed Forces have been jailed for three years by a court martial at Yundum Barracks.
Warrant Officer Class One Sulayman Kujabi and Lance Corporal Lamin Kujabi were charged on November 21, 2018 with three counts of incitement to mutiny and plotting to overthrow the government of President Adama Barrow.
The soldiers denied all the charges but were found guilty after the prosecutors produced overwhelming evidence that showed the accused detailed plot to overthrow the Barrow government in 2017.
According to the prosecutors, the two soldiers were participants of a 'WhatsApp' group called "Ajamat" or "True Friends" created "to carry out mutiny and other offences".
"WO1 Sulayman Badjie and LCPL Lamin Kujabi, on or about the month of July 2017 whilst in Darfur Sudan on official duties, and other places in the Republic of the Gambia incited certain members of the Gambia Armed Forces to take part in an intended mutiny," the prosecutors said.
On his plea of mitigation Counsel O. Suso, representing the two soldiers, said Badjie and Kujabi had been members of the Gambia Armed Forces for several years, adding that they have always served with dedication and commitment.
The court martial panel after considering the plea of mitigation on behalf of the two soldiers by their lawyer and their length of detention, the court gave it verdict.
The two soldiers were sentenced to 3 years imprisonment on the charge of mutiny. On the other charges of incitement, the two soldiers were handed one year jail term each.
The State was represented by the prosecuting counsel, A.M. Yusuf, together with Lieutenant B. Sanneh while Lawyer O. Suso from the National Agency for Legal Aid (NALA) defended the accused soldiers along with Major Basiru Sarr, Major Mustapha Badjie and Lieutenant Commander Fara Jobe.