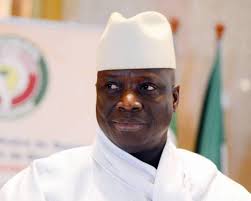 A member of the ex-regime death squad, the Jungulers, has accused the former president, Yahya Jammeh, of ordering all the killings committed by the hit squad throughout his 22-year rule.
Pa Ousman Sanneh who claimed he was powerless to deny orders at the time, told the Truth Reconciliation and Reparations Commission on his second day of testimony.
"Orders came from Yahya Jammeh because all those testifying here don't have the power to order for the killing of people, we didn't have the power to kill anyone he was the president and commander in chief then.
"We didn't have legal background we were not taught that at the training school- we knew it was illegal but we work by orders because he was the King and only him had that power when he said do this you must do it and when he said don't do this you must stop it," he said.
Pa Ousman Sanneh also confessed his role in the torture of soldiers after the December 30 attack on State House saying they tortured Abdoulie Jobe and Sarjo Jarju both of them soldiers.
"We were asked to go and pick up Abdoulie Jobe at the training school and we went to collect him. One night we were asked to go to the NIA to go and torture these people all of us were there. When we got to the NIA our senior Nuha Badjie got in and had word with them they got in and brought out Sarjo Jarju … they brought him in while we were waiting for him.
"We place him on a table and we took a hosepipe all us some people held his hands and legs I myself was among the people who held him and he was beaten … he was crying. Sulyman Sambou and Michael Jatta were beating him," he said.
He added: "When we released Sarjo they brought in Abdoulie Jobe as the way we did to Sarjo some held his hands and legs and we beat him and he was crying."
Pa Ousman Badjie said: "but when we got on to the guard room we all stood there and I saw the former CDS Ousman Badjie I found that he was handcuffed and asked William why this and he said this man came here this night and we don't know the purpose of his mission.
"We went inside the State House around the mosque and found corpses laid on the ground which Lamin Sanneh was among them and Jaja Nyass, the American soldier was also among them Njaga Jagne and the fourth was nearly beaten to death who was private (Modou) Njie and he was taken to the hospital."
Reporting by Adama Makasuba