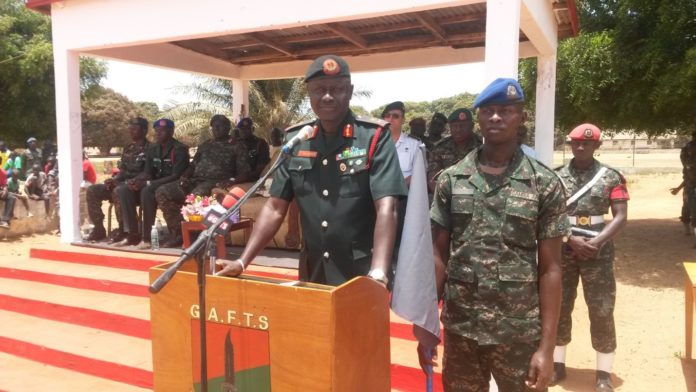 The Gambia Armed Forces in partnership with the British Armed Forces have started a joint military training in Banjul aimed at equipping the Gambian military personnel.
The one month training programme comprises of 130 Gambian soldiers from the defence, intelligence and security forces and 42 British soldiers from the Royal Electrical and Mechanical Engineer company.
Speaking during the opening ceremony at Fajara Barracks, deputy chief of Defence Staff of the Gambia Armed Forces, Major General Yankuba Drammeh said GAF needs military personnel that are sensitive to the needs and aspiration of Gambians.
He said GAF wants a legitimate, transparent and professional army that is accountable to civil authority.
"GAF wants Armed Forces that stand for the nation's right and serve as an epitome of excellent within the West African sub-region and beyond. The military leadership needs Armed Forces whose actions and behavior are found within the best practices as well in line with international humanitarian law," he said.
He added: "We want Armed Forces that equally address its international obligations especially in the context of key support operations."
Major Drammeh also said over the years most of the Gambian military officers had the opportunity to train at various military training institutions in the UK-ranging from the Royal Military Academy at Sandhurst and other institutions.
He described the joint training as an important step in the relationship between the two military institutions and the two countries.
He expressed gratitude to the British Armed Forces and British government for their efforts to contributing to the transformation of the Gambia Armed Forces since its inception.
Meanwhile, he urged the trainees to make best use of the training to ensuring that they accomplished the goal of the Gambia Armed Forces.
"The exercise is going to be win- win situation both for the member of GAF and the British Army Forces. The GAF and the British Army Forces shares strong historical ties for centuries.
"Both countries over the years continue to enjoy fruitful and excellent relationship and lateral cooperation's," he said.
Reporting by Adama Makasuba