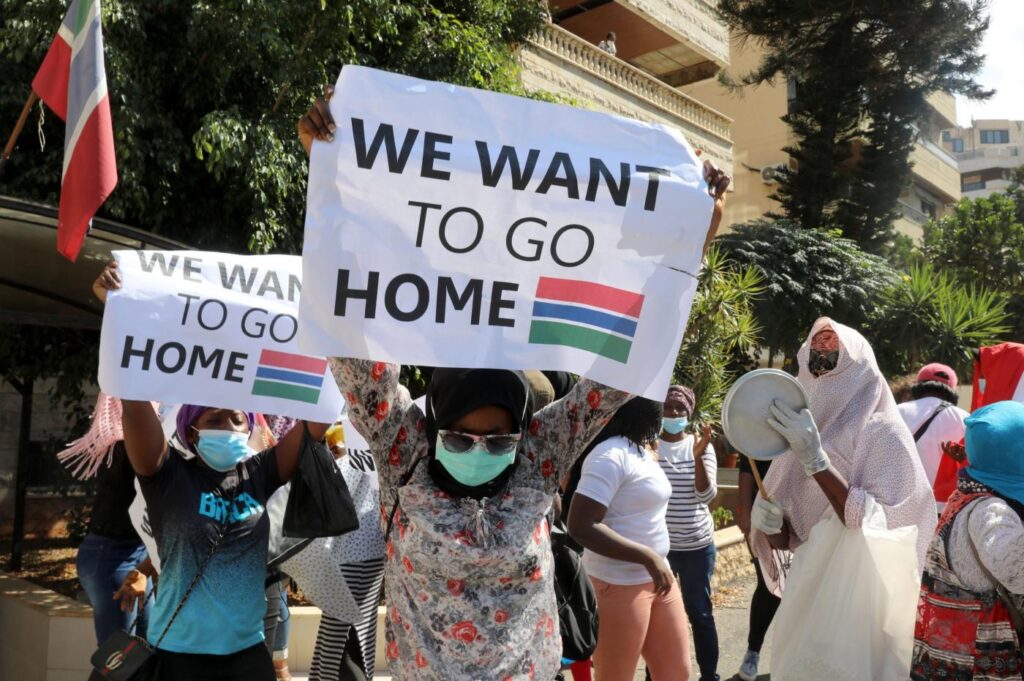 Thirty-eight Gambian workers stranded in Lebanon for months have finally returned home with the support of a Sweden-based charity Action for Humanity.
The Gambia government has been criticised for its inaction and failure in its duty of care after pleas of repatriation were ignored for nine months.
Action for Humanity said in a statement released on Friday that it had "facilitated the repatriation of 38 Gambian women including two children from Beirut".
With no direct flights between Lebanon and Gambia, the NGO paid for flights to the Senegalese capital Dakar and organised buses to the women's hometowns.
"The reaction of the women once they arrived at the end of the long journey was relief," the NGO's executive director, Lovette Jallow, told Middle East Eye on Sunday.
"Relief to be out of Lebanon and on African soil again, from Dakar to Gambia. Happiness to see their family and to rest since the journey took almost 24 hours with flights and buses."
Action for Humanity said the women had faced difficulties getting help from The Gambia consulate in Lebanon.
"The women expressed frustration at the lack of support from the Gambian consul in Beirut, thus leaving them helpless and fending for themselves in quite difficult circumstances in Lebanon," the NGO stated.
The repatriated Gambian women were among thousands of domestic workers from African or Asian countries who were
employed under the exploitative terms of the kafala system, widespread across Lebanon and parts of the Middle East, which grants employers the power to control migrant workers' movements and leaves them vulnerable to abuse.