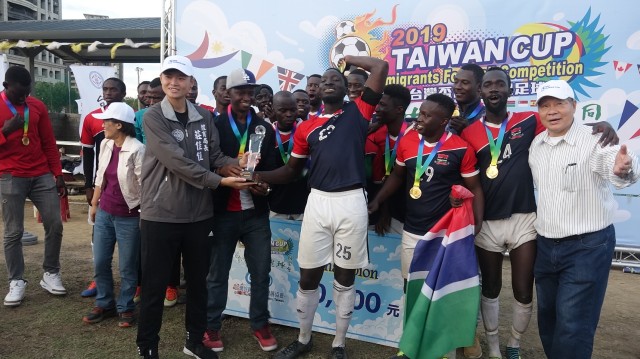 A team made up of Gambians living in Taiwan were crowned the winners of the 2019 Taiwan Cup Taiwan Immigrants Football Competition Sunday after a dramatic penalty shootout in the final against a team of Vietnamese in Taoyuan.
Team Gambia and Hai Duong FC battled it out for 90 minutes to a 1-1 draw, leading to the penalty shootout that saw the Gambians score five times over the Vietnamese's three.
The Gambians scored the first goal in the sixth minute and kept up the pressure until halftime.
Eager to score an equalizer, the Hai Duong FC stepped up their game in the second half, playing an aggressive brand of offense that stunned spectators who were preparing themselves for a brawl that was on the verge of breaking out at any time.
The Hai Duong FC players pushed and shoved their opponents and at one point even took a strike at the ball when it was close to the head of a Gambian player who was on the ground after a tackle.
However, the Gambians displayed sportsmanship and did not escalate the aggression.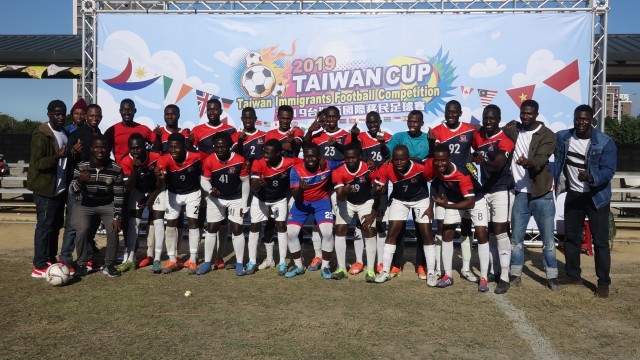 Omar Bojang, team Gambia head coach, told CNA that his team, of which the majority are students, played well by making it through the preliminaries last week and the semi-finals earlier in the day.
"Bravo to the boys, their opponents really fought hard, but fortunately we found victory. It is the sweetest thing," he said.
Despite the aggressive play by the Vietnamese side, Kemo Sima, team Gambia's assistant coach, said he told his team to stay calm, composed and not to return the aggression.
"If you are on the losing side, you are always tense and in a rush to equalize. We saw their aggression and their temper, but all we could do was to tell our team to calm down and play the ball," Sima said.
"At the end of the day we are all brothers," he added.
Karen Hsu, founding chairwoman of the non-governmental Global Workers' Organization, Taiwan, who organized the competition, said the event is aimed at helping people of all nationalities break down barriers and create mutual understanding and friendship through football.
This is the third year the Taiwan Cup has been held following tournaments in 2015 and 2018.
(By William Yen)
FocusTaiwan.tw