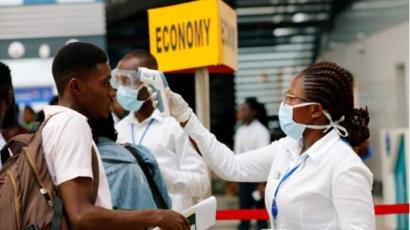 Ghana is introducing some of the world's strictest Covid travel rules, by banning any adult who has not been vaccinated from flying in with effect from Monday.
There is no option to self-isolate.
Ghanaian citizens and residents abroad are exempt for up to two weeks, but will be required to get jabbed upon landing at the airport.
The authorities say they are concerned about a surge of infections over the festive period.
Many other countries have avoided an outright blanket ban on unvaccinated arrivals, such as members of the European Union and the United States.
Ghana's land and sea borders have been closed to passenger traffic since restrictions were first introduced at the start of the pandemic.
Alongside the new measures, Ghanaian authorities will also still insist that all arrivals present a negative PCR test. All Ghanaians flying out of the country will also need to be fully vaccinated.
This means that a Ghanaian national who is not currently vaccinated but gets a jab at the airport would have to wait until getting a second dose before they were able to fly out, unless they get one from Johnson and Johnson.
The World Health Organization (WHO) recommends an eight- to 12-week gap between the first and second dose of the AstraZeneca vaccine and a 21- to 28-day gap between the two Pfizer shots. The Moderna and Sputnik V also require two doses for maximum immunity.
Ghana's authorities are worried about a new wave of coronavirus infections caused by the Omicron variant among international arrivals.
"The expected increase during the festive season calls for urgent actions to prevent a major surge in Covid-19 cases in Ghana," the head of the Ghana Health Service, Patrick Kuma-Aboagye, said in a statement.
He said that over the last two weeks, cases detected at Ghana's main airport, Kotoka, accounted for about 60% of all new confirmed Covid infections in the country.
The new travel guidelines have been met with mixed reactions among Ghanaians, with some supporting them and others saying people should have the right to choose.
BBC