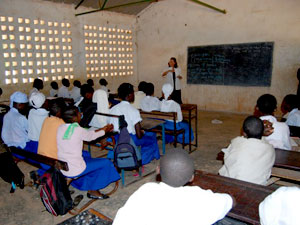 The Ministry of Basic and Secondary Education has said Grade 9 students would go back to school on June 24 but urged other grades students to stay at home until further notice.
The ministry's announcement comes weeks after government relaxed some coronavirus restrictions.
"Fellow Gambians, in light of the above I hereby have the singular honour to inform all school authorities, staff, parents and students in particular, and the general public that the re-opening of schools for the Grade 9 Students is scheduled for Wednesday, 24TH June, 2020, and that of grade 12s would be announced in due course," the ministry said in a statement.
"As such, all the other categories of students are urged to stay at home until further notice."
"In keeping with the WHO health and safety measures, and our Ministry of Health guidelines, we would be closely working with our various Regional Education Directorates to ensure compliance on the social distancing and availability of COVID-19 essentials such as; sanitizers, thermometers, face masks, sanitary materials and water points in addition to continuous cleaning of schools and fumigation," the statement added.
Reporting by Adama Makasuba