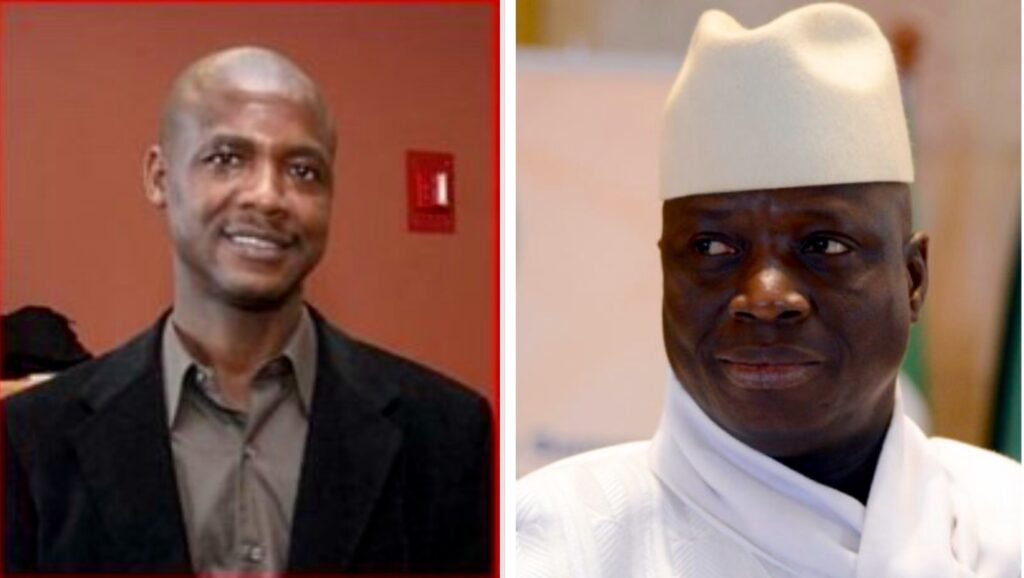 Thankfully, there are quite a number of patriotic folks in our combined security services – the police, the army, and even the once feared and notorious NIA – who did not either partake nor share in the brutality and bestiality of dictatorship.
There are many decent and urbane people in our security services who have empathy and compassion and are filled with what Shakespeare would called 'the milk of human kindness".
And then there were the others with sadistic characters who served along side these decent men and women in our security services. These sadistic officers were nothing but cowards who used their uniforms to expose their bravado and evil machinations against defenceless people.
There are some special people l'd like to commend and appreciate for doing the right thing and for standing up against injustices.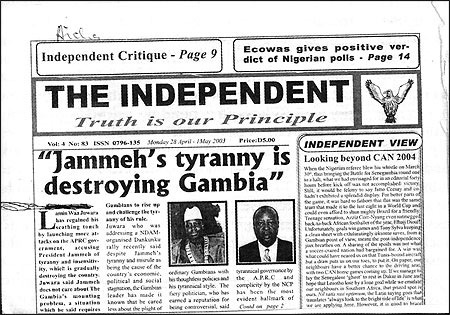 In any dictatorship, there are always genuine and committed men and women in the security forces that assisted and protected us (journalists) from being harmed or killed. They were in the police, army and the defunct NIA.
Others in society too such as lawyers, politicians and medical doctors also came to our aid. I'll mentioned one doctor in particular – Dr. Sheriff Ceesay of Kololi Clinic. He provided medical treatment and assistance to me and my staff for free after our brutal torture at the hands of the security forces. Amie Bensouda, a lawyer, is another name worth mentioning.
While some of these officers treated us well in detention, others tipped us off of impending clampdown. There was this Major at the State House that tipped me off with a message that read: "if you stay in this country in the next 24 hours, you are dead. Disappear now".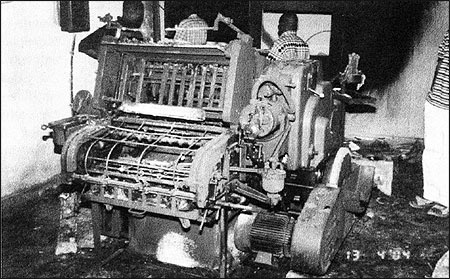 That officer saved my life. I was in mortal danger and my life could have been cut short just like my fellow journalist, the late Deyda Hydara. I was lucky but it was a terrible time for me. I was in a dark and dreary state, far removed from my family, as I fled the country. I had to abandon my baby, the Independent newspaper, and started all over again in exile.
There was also this police officer friend of mine, a wonderful man, who later rose to the post of Inspector General of Police. He too provided me with a list of soldiers serving in the Presidential Guard unit who fire-bombed the offices of my newspaper, The Independent.
This same officer again disclosed all the names of those who were involved and participated in the nocturnal arson attack at the Independent printing facility at Kanifing Estate that burned down the printing press and other equipment.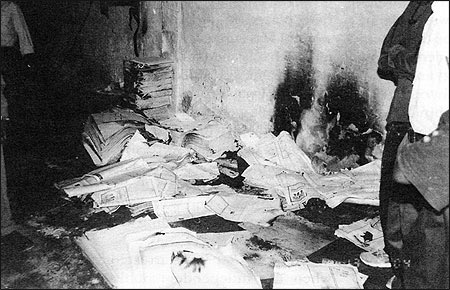 There was also this army officer with the rank of a Major who called, and we had an appointment at "Coming Bar and Restaurant" opposite GRTS Studios along Pipeline/Kairaba Avenue. I was accompanied to the meeting by Namory Trawally, who was then our production manager at the Independent Printing Press.
The Major said to me and Namory that, "my conscience could not allow me to sit on this information without sharing it with you Mr. Jallow". He further said that "as a patriot, I cannot see injustice against young people serving their country and then don't do anything about it".
The Major shared vital information about the arson attack, all those who were involved and took active part in the deadly arson attack at the Independent printing facility causing damages to equipment and injuries to the night shift workers.
He revealed all the names, ranks of those arsonists and disclosed the location of Sana Manjang, one of the alleged arsonists and his hiding place where he was receiving treatment for his wounds.
Apparently Sana Manjang, who sustained serious burns during the arson attack, was being treated by paramedics at one of their commander's residence.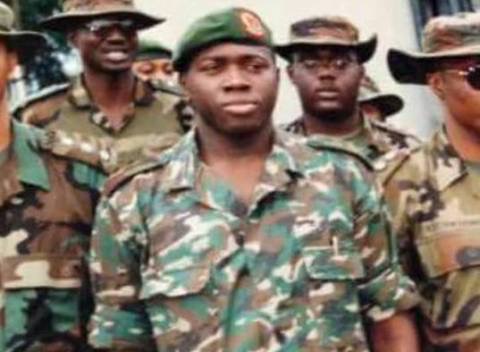 This officer also volunteered information both to our lawyer and to the then National Assembly member for Lower Saloum, Hon. Hamat Bah and he provided all the details about the arson attack and all the soldiers who were involved.
Amie Bensouda, my lawyer, advised me about the security risk of publishing that sensitive information. She suggested that only a National Assembly member could raised the issue at the National Assembly, during their adjournment debates and get away with it.
She advised that since National Assembly members had parliamentary immunity, the risk would be minimised, and that they could raised the issue and then the media could report it without legal consequences.
We approached Hon Hamat Bah and he accepted the proposal and later met with the same officer to verify the information.
Hamat Bah later raised the Independent arson attack at the National Assembly and named solders involved during the adjournment debate.
The independent private press picked up the story and the next day it was headline news and talking points in the country. The story went viral locally and internationally. We still owe a debt of gratitude to the Army officer, Amie Bensouda and Hamat Bah on bringing out the arson attack at the Independent Printing press to the public domain.
I am also grateful to the late Major Khalipha Bajinka, then commander of the Presidential Guard Unit, for saving my life twice when a group of soldiers attempted to kill me and Demba Jawo without our knowledge.
I met Major Khalipha Bajinka at "Big Tree", Latri-kunda buying "Afra" (grilled lamb meat) from Mahmood and I confronted him soliciting an answer as to why he lodged Sana Manjang at his residence treating his severe burns.
He explained to me that he was not aware of the arson attack on the Independent printing facility until it was revealed by Hon Hamat Bah at the National Assembly.
As I was waiting for my grilled lamb chops, Major Bajinka looked me in the eyes and said to me "I saved your life twice from being killed by the Green Boys". I was hesitant to believe his story since I could not trust him because he was the commander of the Presidential Guards at State House and had accommodated Sana Manjang, one of the arsonists who was severely burned and been treated at his home.
But Bajinka being someone very charming and infectious, I listened as he narrated as follows: "Nko, Alagi Yorro …. I saved your life and that of Mr. Demba Jawo from the Green Boys not killing you…"
Major Bajinka continued: "One day you were around Giboro at the Gambian border, you were followed by the Green Boys to be killed and I stopped them".
As I was waiting for my grilled lamb chops, Khalifa Bajinka continued his narration, "I also saved you and Demba Jawo from the Green Boys not attacking both of you".
He added that "Demba Jawo was attending a seminar at Sindola Hotel at Kanilai and they wanted to eliminate him. I also stopped the boys not to kill or harm him in anyway".
"And you were followed on your way towards Soma with your small Suzuki car by the Green Boys and I stopped the boys not to do any harm to you", Bajinka revealed.
I was terrified and shocked about Bajinka's revelation. To corroborate his narrative, I confirmed to him about my trip to Giboro. I was on my way to visit my exiled brother, Pakaya Fofana, at Darsilame in Casamance. I also confirmed that Demba Jawo was at Sindola Hotel attending a workshop and confirmed to him the exact date and weekend trip to my home village in Jarra.
Thereafter, one day l heard someone behind me shouting "Alagi Yorro, Yorro, Boy". I looked back and l saw my police friend. He was in mufti on duty to monitor my movement around Senegambia area at night. I shouted his name, laughed and shook hands, with him. He told me in Mandinka "just keep doing your own, while l do mine"; and he warned me not to further pursue the story involving the businessman, Dodou Jobe and the President, Yahya Jammeh.
A great guy and a wonderful police officer. He died two years ago as a Commissioner. I salute him and all the good and wonderful people that stood by us during the dark days of the Jammeh dictatorship. May Allah grant the souls of all these wonderful officers Jannat-ul Firdaus. Ameen
By Alagi Yorro Jallow