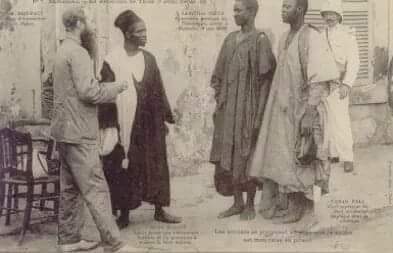 We must refuse to let go of our rich history as there is a clear testimony that well before colonialism, our people were organised and they put in place their own democratic governance structures. They had the Lamans for example in Kayor from 1549 under the Jollof Empire.
The many who were elected damels after the Laman period came from the three ruling families: Kerr Faal majorr, Faal chaai yassin and Faal thiadelaa. The Faal Thiadelaa mainly were the Brimas, Maa Codou e.g Birima Faal ma Penda and those from Faal chaai Yassin lat sukabeh with names like Maisa.
Today we revisit the history of a great Senegambian Prince Diery Jorr Ndella Faal.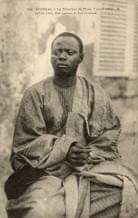 Diery was born in 1871 to Dambel Samba Yaya Faal, the 32nd Dambel of Kayor, who was deposed by the French colonialists and put under house arrest in St Louis.
Diery's father Dambel Samba Yaya committed suicide in the river after he was refused permission to attend his mum's funeral in Kayor on 18th October 1891. Diery's mum was Debo Suka muu Absa Ngunun.
At the age of 22, Diery married off his own sister to Canarri Faal, part of the bride price were 2 slaves which was the norm in royal weddings.
On the 7th of April 1904, Diery took the slaves to an open market in Thies and sold them. This was well after the abolition of slave trade by the West.
Reports reached the then acting Governor Hendry Chautemps, Diery was summoned to the governor's residence. He was fine to pay some cash and sentenced to 15 days imprisonment.
This meant he was to be tied up and locked up by the governor's guards. Upon hearing the commotion, Sarichaa Mararri Jaye from Tubay Jaye broke into the governor's residence and stabbed the governor and setting Diery free.
With the governor's demise, there was a manhunt on Diery and his disciple Sarichaa. Diery headed out to Bulyama and met his uncles Masamba Sassoum Jobe grandfather of Sheikh Anta Jobe and Samba Nyebeh both of whom advised that Diery hand himself to the French.
Diery was a wanted man dead or alive, a high price was put on his head. Our own history had it's dark side too, Diery was ambushed by his own brother-in-law Canarr Faal and killed on the 9th of April 1904. His head cut off and taken as a trophy and evidence to the French of his assassination.
See pic below showing his head and limbs displayed by the French to warned off others who were anti-establishment.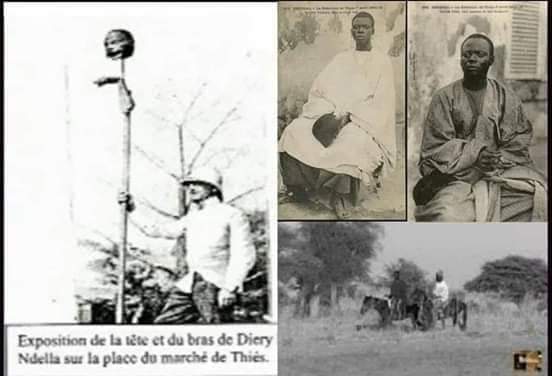 Saricha Jaye was expelled out of Senegal to French Guyana where he later adopted Islam and died.
As my brother Pa Laity Senghore once puts it "we need to rewaken ourselves through history. If we know not who we are as a people, we don't know what we are or where we are heading to. We must transcend ourselves to know ourselves".
Diery Jorr Ndella muu Dambel Samba Yaya ak Debo Suka. His head taken to France as a trophy, the rest of his butchered body burried in Bulyama in Kayor.
By Ebrima Jawo