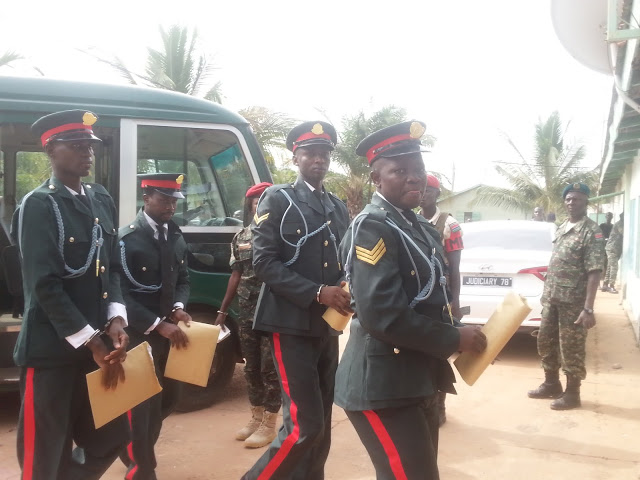 Tears rolled on the cheeks of family members of the soldiers on trial as the court martial judge reads their imprisonment verdict on Monday.
Seven of the soldiers were sentenced to 9 years imprisonment, one to 3 years and four other soldiers were freed by the court.
The twelve soldiers were facing prosecution on 9 counts including- treason, incitement to mutiny, failure to report mutiny, conspiracy to commit mutiny, endeavor to persuade members of the Armed Forces to take part in mutiny, negligent or willful interference with lawful custody, connivance of desertion, connivance of desertion and negligent interference with lawful custody.
Meanwhile, the seven soldiers sentenced to 9 years in prison include, Captain Yahya B Jammeh, Lt, Abdoulie Jarju, Lt Yahya Jammeh, Sgt Buba Sanneh, Sgt Malick Bojang, Private Mbemba Camara and Lance Corporal Abba Gibba while Private Alieu Sanneh was sentenced to 3 years imprisonment.
However, the court freed Corporal Sulayman Sanyang, Corporal Lamin Gibba, Lance Corporal Ebrima Jallow, and Lance Corporal Sambujang Bojang.
During his ruling, the president of the Court martial Colonel Salif Bojang said: "the decision of the court is usually determined by the vote of majority, the court has considered the plea of mitigation and the length of their detention in its findings. This decision has been confirmed by its authorities as required by its (GAF) Act."
In 2017, the twelve soldiers were arrested and charged for plotting a coup against the government of Gambian president Adama Barrow over a secret Whatsapp group audio.
The men were accused of plotting to reinstate exile former Gambian president Yahya Jammeh.
Reporting by Adama Makasuba