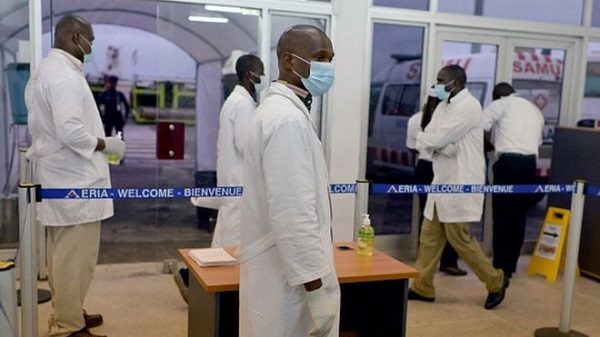 The Gambia's Ministry of Health has said 26 people have tested positive for the Omicron variant of the coronavirus which prompted the ministry to impose testing and quarantine protocol in a bid to fight against the disease.
"The Ministry of Health wishes to inform the public that genomic sequencing of positive Covid-19 test results from The Gambia has identified 26 cases with the Omicron variant of the coronavirus, 13 of whom are outgoing travellers," Modou Njai, Director of Health Promotion and Education said.
"The samples were collected between the 22nd and 28th of December 2021 and the results confirm the presence of the highly contagious Omicron Variant in the country and thus underscores the need for the public to consider healthy choices this holiday season to protect themselves and their loved ones," he added.
"The Omicron variant of COVID-19 has been called a variant of concern by WHO based on the evidence that it has several mutations. New variants like Omicron are a reminder that the COVID-19 pandemic is far from being over.
"As a result of the presence of this new variant, the testing and quarantine protocol is thus updated with effect from 17th January, 2022," he continued.
Meanwhile, the ministry said passengers coming into the Gambia who have been fully vaccinated do not need a PCR test, adding "those travellers are advised on self-monitored isolation and avail themselves to the testing centres for RDT test in case they notice any signs and symptoms of COVID-19 or could call 1025 for enquiry.
"However, if such individuals have signs or symptoms similar to those of COVID-19, they will be required to undergo Rapid Diagnostic Test for COVID-19 at the airport upon arrival.
"This category does not apply to hot spot countries for Omicron variants who need further screening as given in the category."
"Non-Vaccinated or Partially Vaccinated individuals: All these individuals will need a negative PCR test report valid within 72hrs for entry into the country.
"Passengers from countries considered as hotspots for the Delta Variant will, in addition, undergo a Rapid Diagnostic Test at the Airport upon arrival. The list of such countries will be periodically updated," Mr Njai said.
Reporting by Adama Makasuba
Editor's note: We have a small favour to ask. We'd like to thank you for putting your trust in our journalism this year – and invite you to support our fundraising campaign. Every contribution, however big or small, powers our journalism and sustains our future. Thank you. Donate here: https://gofund.me/cf970c54