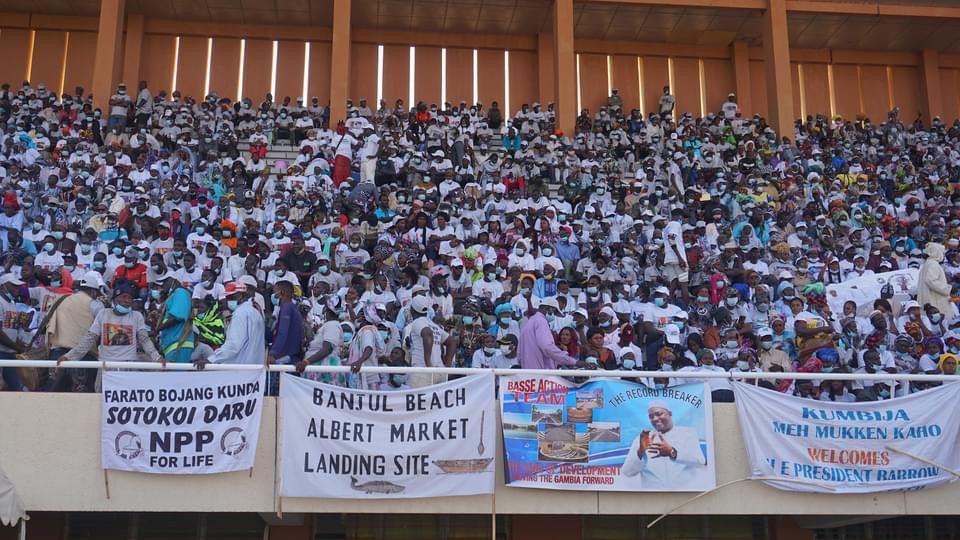 If elections are held today, there is no doubt President Adama Barrow will win, going by the number of politicians, Godfathers, and godsons also political landlords decamping to his side. The question in everyone's mind is how President Barrow has managed to enchant the Gambian electorate.
Adama Barrow has bagged more than half of the political landlords and Godfathers, godsons and "electoral big boys and girls," and political merchants in this political season heading to December 4, 2021 – (if photos doing social media rounds are anything to go by).
To what does Adama Barrow owe his fast increasing political popularity amongst the Gambian people? Almost three years ago until today, he was mostly one of the most discreditable and reprehensible politicians in the Gambia tainted with scandal, myopic executive leadership, uneducated leader, an ignoramus and explained everything to him, and lacking a pedigree to live as a tenant at number 1 Maraina Parade in Banjul.
Has he been often derided as the high priest of corruption? Yes. How did the man Adama Barrow reinvent himself to become a darling of the electorate?
We should read the book about "The True Believer" by Eric Hoffer when we saw someone loudly wonder how a man as disreputable, twisted, tendentious, and malignant as Adama Barrow can attract so huge a following, with his followers having forgotten that he was called all nasty names and their terrible meanings in part of an outfit that was essentially propping up a dictatorial regime.
That he is suspected of having fleeced public coffers in his tenure as President, and that virtually all the promises he gave in the campaigns in 2016 have not been realised. Just by rhetoric's power, we have forgotten all that, and we are now wondering after him.
In 1951, a longshoreman named Eric Hoffer wrote a book called "The True Believer: Thoughts on the Nature of Mass Movements." If you have a university education or are in university, I recommend you find the book and read it.
In the book, Hoffer shrewdly analysed the forces that spark nationalist and totalitarian movements. The principal occupation of the book is how vulnerable groups can be manipulated by misleading rhetoric.
Thankfully, Eric Hoffer's book The True Believer has the answers. Eric Hoffer says that mass movements begin when discontented, frustrated, powerless people lose faith in existing institutions and demand change.
Feeling hopeless, such people participate in movements that allow them to become part of a larger collective. They become true believers in a mass movement that "appeals not to those intent on bolstering and advancing a cherished self, but to those who crave to be rid of an unwanted self because it can satisfy the passion for self-renunciation." Pg 12.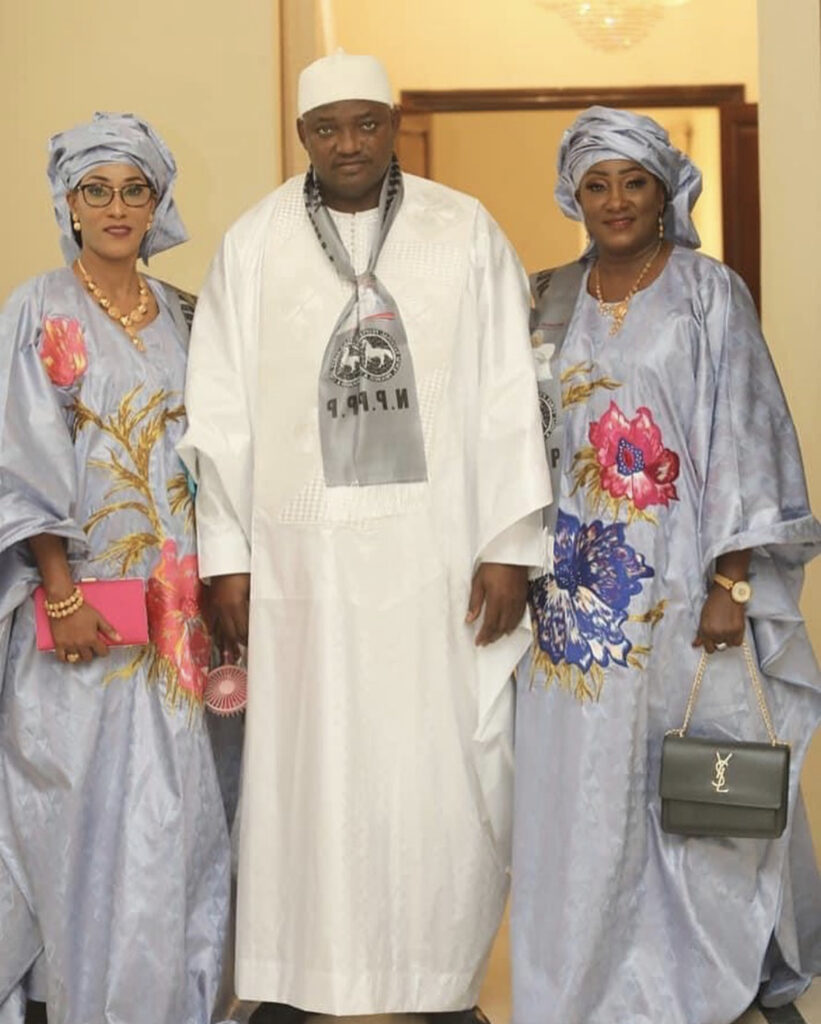 As such, therefore, the leaders of mass movements go for the low hanging fruits. For the frustrated, the marginalised, the discontent. True to the book, the National People's Party ( NPP) of President Barrow is the economic outsider – the hoi polioi.
The hoipoloi struggles day in and day out. He dislikes the establishment because he projects his economic impotence on the actions or inactions of the establishment.
However, the hoipoloi does not know he is impotent. He knows, deep down, that he is impotent, but he does not want to admit it. He has lost faith in himself but does not know it. He wakes up, proceeds to his grind, makes peanuts, wastes all of it in liquor, weed, and hoes, goes home to eat a stale 'Tapalapa' bread and bean, nights of sleep, and wakes up the next morning, and repeats the cycle. He is dead but does not know it. He is impotent. He cannot pull his weight. He cannot actualise himself.
Eric Hoffer says that "the true believer's faith in a mass movement is to a considerable extent a substitute for the loss of faith in ourselves." He says that while leaders inspire movements, the seeds of mass movements must exist for the leaders to be successful.
Moreover, while mass movements typically blend nationalist, political, and religious ideas, they all compete for angry/or marginalised people.
Does the NPP party depend on facts? For instance, do we expect President Barrow's hustlers to interrogate Barrow's ideas and history critically? Hoffer said that the true believer is rarely concerned with facts. He wrote, "it is futile to judge the viability of a new movement by the truth of its doctrine and the feasibility of its promises."
Like former President Donald Trump, Adama Barrow's political campaign is mainly dependent on Alternative Facts. Donald Trump promised to build a wall and make Mexico pay for it.
President Barrow promised several mega projects, free WIFI in Brikama, 60 Mosques throughout the country, building Banjul -Barra a mega-bridge, road networks, and building more schools and campus in the rural Gambia and rural electrification for every rural Gambia.
Today he promises to topple Godfatherism politics, the political landlords, and tribal lords and usher a golden era of hoipoloi in the Gambia. Empowerment, he calls it.
Talking of the youth and women hustlers vs. political Godfatherism binary, Hoffer said that a mass movement could rise and spread without believing in a God, but never without belief in a devil.
He said, "hatred is the most accessible and comprehensive of all the unifying agents. Mass movements can rise and spread without belief in a God, but never without a belief in a devil."
It is indicative that in Barrow's universe, the political dinosaurs are the problem, and the solution, the panacea, the silver bullet, is toppling them. He does not give a comprehensive, sustainable, tenable solution. He diagnoses the problem as the deep state. The devil is the deep state, the Godfatherism, and their acolytes.
Hoffer profoundly renders it in this manner: "A rising mass movement attracts and holds a following not by its doctrine and promises but by the refuge it offers from the anxieties, barrenness, and meaninglessness of individual existence.
"It cures the poignantly frustrated not by conferring on them an absolute truth or remedying the difficulties and abuses which made their lives miserable, but by freeing them from their ineffectual selves – and it does this by enfolding and absorbing them into a closely knit and exultant corporate whole." P. 41.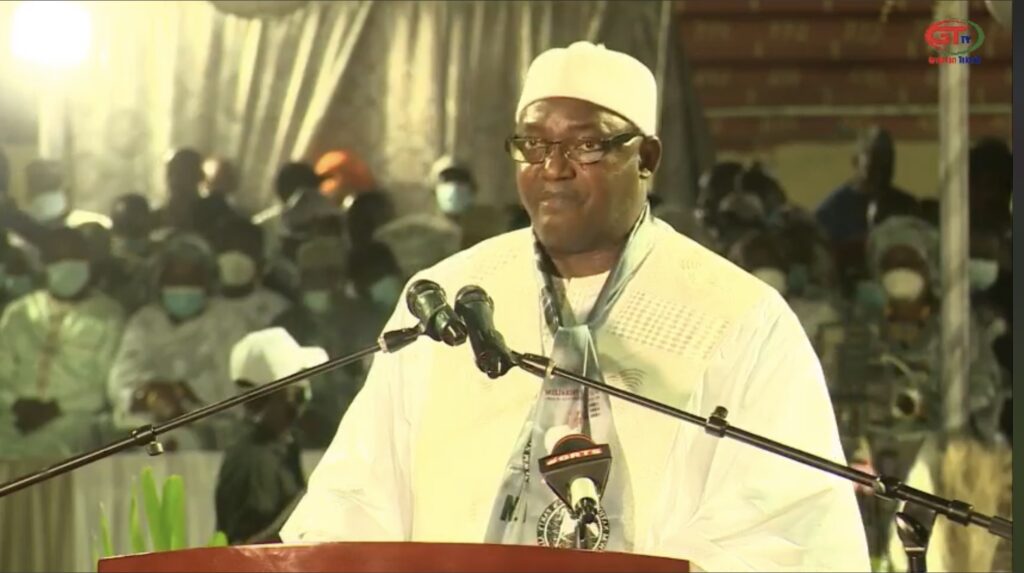 Lastly, Hoffer speaks of the potential converts to a mass movement. He says that the destitute are not usually converts to mass movements as they are too busy trying to survive to become engaged. The potential converts are the "New Poor."
These are people who previously had wealth or status but who believe they have now lost it. Such people are usually resentful and blame others for their problems.
Presently, Adama Barrow's party remains a strong political party with a national appeal semblance. And this matters. John F. McCauley, in his definitive book "The Logic of Ethnic and Religious Politics in Africa, explains the challenges and intricate problem of ethnicity and religion in African politics.
It highlights why political parties in Africa become most ethnic or religious in design and structure without ideology, making it impossible to have a party built on bigger stuff beyond ethnicity and religion.
This follows mostly the collapse of nearly all African political parties that brought independence to Africa. Only Africa National Congress (ANC) (whose support base is waning) and the Chama Cha Mapinduzi (CCM) in Tanzania (still reliable, albeit flaky) stand firm.
Now, each tribe has to have a party that joins a coalition. It is safer this way when we are making a few bargains for our people. President Barrow has dissolved smaller periphery political parties, and we know his political strategist coalition is amongst the most intelligent political animals in the Gambia.
The response of Adama Barrow's political trajectory towards a distinguished career has been overwhelming. When self-styled political pundits, social media, and echo-chambers commentators not worth their salt overruled him, some even had the misplaced temerity of saying that his popularity ratings were in the toilet, Adama Barrow appears to be on a renaissance trajectory.
His staunch supporters, who were growing jittery over his protracted delay in launching his party, are now in a festive mood waiting, with bated breath, the excited return of one of the Mankamang Kunda's greatest sons.
Adama Barrow's party launched, and rightly so, has provided sweet fodder for mainstream media and the street gutter press.
Talk of how he will be received has continued to dominate national chatter for days now. Loved and reviled in equal measure, Dou Sanno, Fabou Sanneh, Suntou Touray, Ahmad Gitteh, Siaka Jatta, Mambanyick Njie and Lamin Demba and other members of NPP are colloquially and popularly known, being able to pull off one of the most surprising and sensational political movements of their checkered political career.
Few politicians can do that; it takes experience, expertise, and a sterling comprehension of politics' perplexities and mechanics.
Political experts have, on numerous occasions, confessed their incapacity to comprehend President Barrow fully. Flawed assessments that purport to portray him with precision only add to this divinity's mystique in the Gambia's political pantheon.
A situation of bleakness has now been transformed into one of bliss and ecstasy. That is the caliber of the NPP stalwarts that were sadistically savoring Adama Barrow's moment of humiliation. They have now retreated with coiled tails to strategize on how to counter Barrow's resurgence.
Whether they will muster the gumption to roll back this unprecedented political tsunami remains to be seen. As I write this article, talk of mounting disquiet within the critics and haters of Adama Barrow continues to mount with staggering velocity.
Walking the thin line of keeping the critics and opponents in check and cleaning their internal mess proves a tall order for Adama Barrow's opposition. It is now dawning that pushing this enigma of Gambian politics into the periphery will require the blues' powers.
Furthermore, those in the National People's Party (NPP) ranks with patience can make NPP a genuinely national party that can dominate politics after 2021.
They should drop the rent-seeking approach. President Barrow is making inroads in the Gambia's rural parts and the semi-urban parts of the country.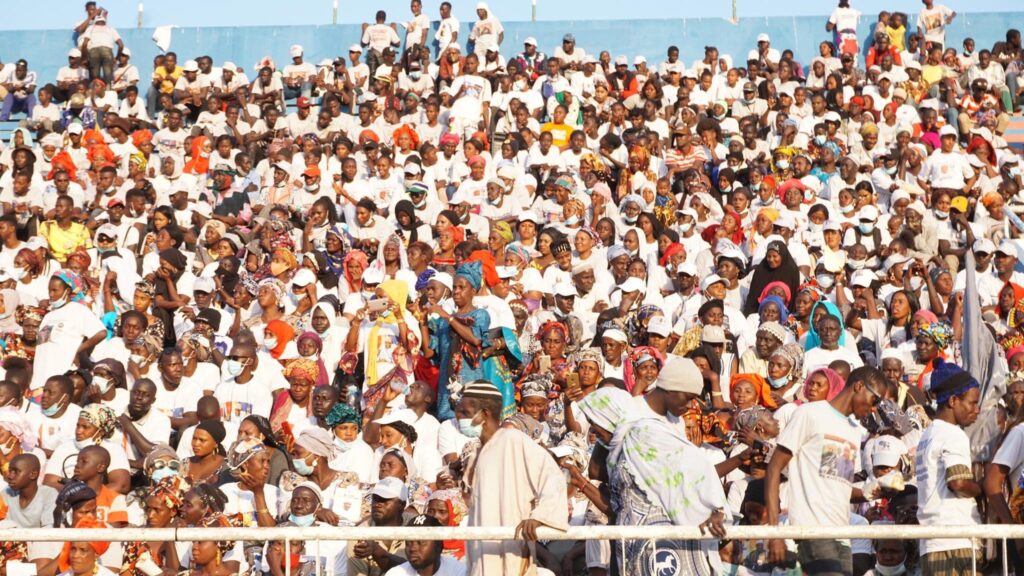 During his 'Meet the People's Tours' starting from Banjul to Fatoto village, where he first vowed to annihilate some of the opposition political parties and save them from hijackers such as and other deep state political rivals, was a great unburdening because, for the first time in ages, President Barrow was upfront on his wishes for his party and the nation.
After that, he hosted political, religious, youth leaders, and the Gambia's most prominent 'Jaliba's and Jali Ndings,' and the traditional leaders also women groups all over the country in his 'Meet the People's Tours' that lasted almost a month on political consultations and political rallies consolidating his political agenda 2021.
Prophets and prophetesses, also clairvoyants of our modern-day Gambia, have predicted an Armageddon political war with the 'gods' of politics and political schemes staged on December 4.
According to a leading American political scientist and communication theorist, Professor Harold Laswell Resources, politics is the authoritative allocation of resources and values, for starters. He also theorizes that politics is the study of influence and the influential.
The science of politics is conditioned on values, and the power of politics and philosophy justifies the ability to make someone do what he could otherwise not do.
Look at how as a nation, the Gambia has been conditioned after twenty-two years of kleptocratic rule. Have we ever wondered why almost all political struggles are about economic juggernauts?
Men of means are both revered and loved. The world is not as linear as we portray it. Here and there, examples of men on fewer means being entrusted with positions of responsibilities abide too. Let us beware of political outliers in the order of politics. A political outlier does not embrace identity politics.
There is a divided opinion in other political parties such as the Alliance for Patriotic Reorientation and Construction (APRC), Gambia Democratic Congress (GDC), and the United Democratic Party UDP)) and the Gambia Moral Party( (GMC).
More than a few MPs and political heavyweights with significant political clout have pledged to work and support President Barrow's political and development agenda. They include Alagie Sowe, National Assembly member for Jimara constituency, Dr. Demba Sabally, and many defectors and political cross carpets from other political groupings.
The same thing can be said of another opposition periphery, smaller political parties in some parts of the country defecting to President Barrow's new political party, the National Peoples Party(NPP).
In the wake of the Covid-19 Pandemic, many people have lost jobs, their livelihood sources and have had to downgrade. They have had to find cheaper houses, cheaper schools, and cheaper means of transport.
There is much discontent waiting to be whipped up. The true believer is not a critical thinker. He will not see that his problems are God's act but will want to blame its establishment.
The establishment is the convenient devil that any movement or political organization needs to rally against.
So what?
Those who support President Barrow, whereas the present schadenfreude towards his new political party, must not be blinded because, on December 4, they may be crying and wailing after the final grand betrayal. That is a constant in Gambian politics.
Let's NPP take the hit it can and remain vigilant. Do the masses organize themselves, or are the masses organized? Roberto Michel came up with a proposition known as "THE IRON LAW OF OLIGARCHY!"
Simply put, no matter how democratic an organization is, or may pretend to be, a SMALL number of people will always be the ones making decisions on its behalf. (Basic definition of Oligarchy is: a small group of people having control of a country or organization).
The best way to reach the masses has always been through its elites! Even those who claim to go directly to the people, deep inside, know this point is politically correct.
By Alagi Yorro Jallow