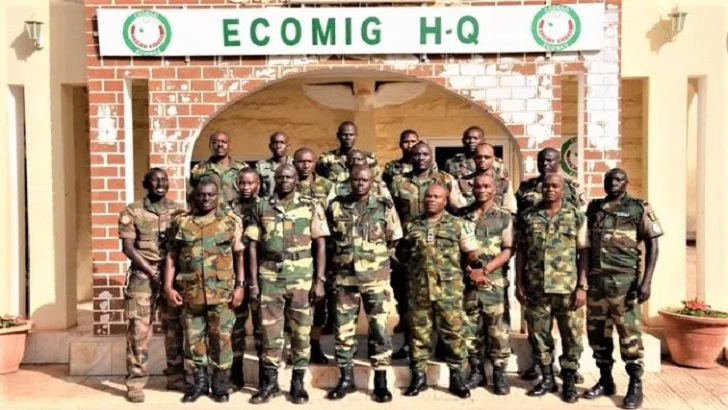 Part 1
The Gambia is an integral and vital member of the Economic Community of West African States (ECOWAS). It must seek a national security sector reform in detail but regional.
Fortunately, there is no need to reinvent the wheel giving that ECOWAS has already done extensive work in this area to guide member States. The world is now facing a big new challenge: human trafficking, narco-terrorism, transnational organized crime, and a growing threat to national and international security.
This is an old evil taking an altogether new and dangerous dimension threatening to upset international relationships. In Africa, as in the Gambia, we are grieved to see on international networks how hundreds of thousands of our non-disabled men and women fleeing to Europe and, in the process, thousands dying in the desert or drowning in the Mediterranean.
The Gambia is ready and willing to partner with international agencies and ECOMIG mission on a bilateral basis to confront crimes and corruption. In particular, the global community urgently redoubles efforts towards strengthening the mechanisms for dismantling safe havens for drug cartels and corruption proceeds and ensuring the return of stolen funds and assets to their countries of origin.
As a former fellow of The Africa Center for Strategic Studies at the Department of Defense and the University of Defense to study security issues relating to Africa and serve as a forum for bilateral and multilateral research, communication, training, and military ideas with civilian participants.
This is my take on the challenges and prospects for the Security Sector Reform in the Gambia and the ECOWAS Mission in The Gambia ( ECOMIG)-code-named Operation Restore Democracy, an ongoing military intervention in the Gambia by several West African countries to be morphosis to a police mission.
Security Sector Reform (SSR) is a holistic exercise that encompasses many actors both in the State and non-State spectrum. For SSR to be successful, it must be detailed in planning and design through international and national participation and partnership with civil society.
In recognition that both local and international terrorism is becoming more widespread, complex, and sophisticated, the Gambia Government has to be cognizant of some steps to strengthen further her containment measures: the Anti-Terrorism and Money Laundering Acts on various terrorism-related security threats.
Bilateral and multilateral cooperation in the general domain of security and terrorism, particularly the criminal justice system against illicit drug trafficking in the Gambia, be vigorously pursued in coordination with national and international law enforcement agencies.
The rapid geopolitical shrinking of the world by technological advancement and global integration has engendered opportunities and challenges.
The same phenomenon has also rendered all nations of the world irreversibly interdependent irrespective of size, location, culture, technological sophistication, economic development, among others.
However, there is a vast difference in preparedness at the technical, technological, and professional strata between the developed and the developing world.
The manifest difference in capacity and preparedness to adequately respond to this new security challenge should be a serious concern.
The stepping in of the European Union and the Economic Committee of West African States (ECOWAS) to build the member states' security services' capacities is timely and necessary for holistic security challenges in the Gambia.
The Gambia, as a critical country in the Economic Community of West African States (ECOWAS) member state, Gambia's security feeds into the sub-regions general security cannot be gainsaid.
The Gambia must adopt a dual approach on politics and Security Sector Reform (SSR), and external actors, and strengthen local security interests.
This means an urgent need to document and upscale resources for security, expertise, experience, and knowledge base of intra-African capacity to promote regional and continental security.
A stable, disciplined, and polished Gambian police and military power and intelligence service would help the ECOWAS sub-region develop a Pan-African Security Sector agency.
I think ECOWAS must have all its duty bearers involved, and this can only happen if each West African country can firmly build its internal capacity on security.
This would result from a robust ideological consensus on SSR at the regional and continental level, with a build-up from regional blocs.
In the end, security will be delivered to the ECOWAS citizens as a public and continental good, with enhanced capacity, reduced impunity, strategic engagements, and an opened up space for security operation.
So the Gambia must carefully plan and execute the police reform agenda with precision and expertise. This may just set the ball rolling for regional security sector reform.
With the 2017 political alternation in government and ideology in power to the current Gambian political landscape, a burning need to address some of the nation's social contract's essential parts.
The security and safety architecture is among the highest priorities among the topics to be addressed. While there is no established or perceived threat to the national sovereignty and territorial integrity, there are issues related to the citizens' general security, threats from organized crime and global insecurity, climate change, and threats of natural disasters caused by climatic changes and the political consequences of the perceived threat and felt insecurity is likely a threat perception.
The transfer of power from the long rule of former President Yahya Jammeh to the democratically elected administration is providing an opportunity to make an in-depth assessment of the needs and requirements of the Gambian society relating to security and safety mechanisms, processes, and agencies, with the accent on good governance, transparent and efficient service for all of its citizens in line with the constitutional framework and response to the prevailing security situation in the region.
However, one looks at it, the core issue in any security sector reform is Effectiveness and Accountability. This is the end-state in any SSR effort, particularly where the separate but reinforcing SSR toolkit is followed.
The toolkit pays attention to the various essential milestones, which comprise: Political leadership and national ownership, Processes, Programming, Good financial governance of defense and security institutions, Effective external support, Parliamentary oversight of the security sector.
Civil Society involvement in security sector reform and governance, Non-State Justice and security providers and Integrating Gender in Security Sector Reform and Governance
To effectively deal with emerging crimes, particularly those that deal with public safety, there is an urgent need to build all actors' capacities in the State and non-state security space.
Particularly attention should be given to the security outfits mandated to tackle public safety through partnerships with other international partners.
Through these international corporations, homegrown initiatives and knowledge transfer can be enhanced. This will also require acquiring the necessary equipment and fit for purpose gear to bolster the security forces' logistical needs.
The timely exchange of accurate and reliable information on factors like the plan intentions, activities, origin, location, drive or motivation, way, and means of operation, structures of a terrorist organization is a crucial pre-requisite for the effective utilization of capacity build. In other words, capacity is not an end in itself.
Such exchange of intelligence is necessary and vital both within and outside of countries (i.e., amongst the various security outfits of a nation and bilaterally and multilaterally).
In our country's old history, the police have been known to be the human scarecrows, agents of torture, and replete with an appetite of torturing and killing Gambians with wanton abandon.
Corruption has been their emblem, so prominent like Biblical Cain's mark, that they have ever distinguished themselves mostly as purveyors of impunity.
Further, the paradox of organized crime in the Gambia can baffle even the most seasoned FBI agent. The police are the first point of contact with the community in responding and addressing crime and violence incidents, yet citizens have little confidence in their ability to respond.
Every citizen's understanding of security dimensions at a local, national, regional, continental, and global level is vital. The security must be demystified. Unlearning classical perceptions of security and learning new perspectives should be concurrent.
While the government's reform agenda is supposed to address policy-level change, local inclusion of the people in decision-making and resource allocation has not yet advanced. The Community Policing Initiative has fallen like the decline of man from the Garden of Eden.
Amongst President Adama Barrow's administration's election promises should have heralded a new institutional reform era in the Gambia. One of the institutions targeted for reform is the Gambia armed forces, the State Intelligence Service, and the Gambia police force.
These institution has been historically linked to the perpetration of torture, extortion, extra-judicial executions, lackluster services, violence, and corruption. The desired security and general security sector reform must be consistent, reliable, and credible, and must also afford the Security Services the people's trust.
No, the security vetting process must not victimize any serving security officer. The vetting process should establish security officers' suitability and address some service issues as indicated hereinabove.
It is fitting and proper that those who shall be found wanting in character and professional conduct may highly be redeployed.
Further, security officers' placements should be considered and voluntary resignation by those officers who may not be willing to undergo the vetting process.
However, caution shall be exercised such that mass resignation by officers shall not be encouraged for national security reasons.
The Gambia, like many other countries, faces formidable challenges in dealing with the proliferation of national and global terrorism, and this is central to the national security concerns.
As Alice Hills postulates, the challenges of implementing security sector reform (SSR) in post-authoritarian societies are misunderstood, especially in Africa, where even democratic regimes use stringent norms and practices.
Arguably, these challenges would best be addressed in the context of a democratically formulated national security policy that allows citizens to deliberate on how their government should handle the problem of terrorism.
Unfortunately, the Gambia does not yet have such a policy. However, this has not stopped the government from initiating and implementing policies and laws on counter-terrorism.
The police reform process needs external actors' involvement to complement and not undermine the government's devolved system's collective quest for police reform.
These external actors include policymakers, security sector reform enthusiasts, scholars, and civil society actors. The duality of approach, converging internal and external actors, is a plausible Gambia policy option.
Border security, for instance, remains a challenge for the Gambia. An authentic promotion of local ownership of organic SSR would give life to policymakers, refocus more energy and resources, and build capacity on the sub-regions emerging key security drivers.
The dynamics and the urgency the Gambia's Security Sector Reform would ensure secure elections and avert election-related violence. There is also a need for synergized internal and external support for security plans and reforms beyond normative initiatives.
The Gambia must welcome the ECOMIG police mission in tackling crimes, drug, human traffickers, and acts of domestic and international terrorism to put any legal measures to apprehend and bring criminals to justice.
We are witnessing an alarming increase in conflicts fuelled by the availability of small arms and light weapons. We call upon the government to demonstrate the political will needed to uphold the UN charter.
A robust implementation of the Arms Trade Treaty will guarantee that small arms and light weapons are only legally transferred for a start. Arms traffickers and human traffickers are two venomous species that the world community should eradicate.
By Alagi Yorro Jallow