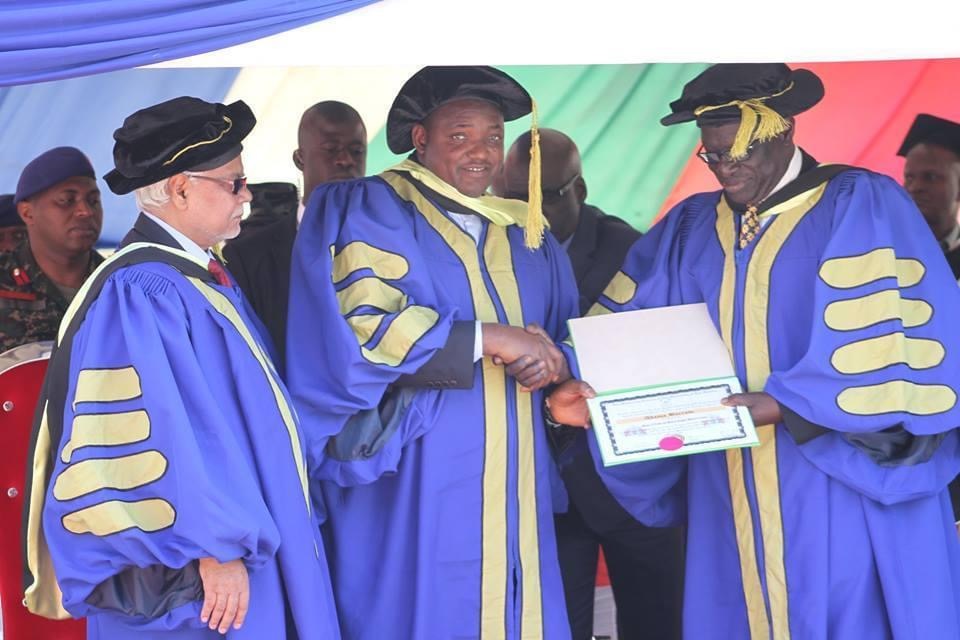 President Adama Barrow proved that a 'leader's greatest victory is over his ego.'
To listen and understand; to question and disagree; to treat no proposition as sacred and no objection as impious; to be willing to entertain unpopular ideas and cultivate the habits of an open mind.
This is what encouraged me that President Adama Barrow should be applauded for his humility, his courage to accept to be referred to as "Mr. Adama Barrow, President of The Republic of The Gambia" not with long titles and insignia.
Every great idea is just a spectacular disagreement with some other great idea.
Leadership is a choice. It is independent of position; it is an inside job. It is earned by action. It is transferable, and it is scalable.
When we no longer feel challenged in our roles, when we find that we are big fish in small ponds, then we know that it is time to expand our leadership roles to the next level.
Yes, to compromise, you need to understand your own opinion and have an ear for the opposing view, and when you do that, you can balance it out and make the best choices.
President Adama Barrow displayed modesty, faith in his endeavors to lead, and his leading begins with being shown. This is an apparent incidence of teaching us how to pray by accepting our limitations and frailties. It takes greatness to call yourself lowly.
President Barrow does not want to be seen great with long titles, with the insignia of the highest grade of the Order. President Barrow has shown humility and acknowledges the virtues of significant limitation, the know-it attitude.
Our politicians across the divide can heal our nation if they show just a little modesty and humility President Barrow manifested at the convocation at the University of The Gambia.
"The University of The Gambia has tasked me, my government, and the people of The Gambia to maintain and keep improving on our Human Rights by honoring me with the Doctor of Laws and Human Rights (Honoris Causa). Thank you for the recognition". President Barrow added, "I will maintain my name and would like to be referred to as Mr. Adama Barrow, President of the Republic of The Gambia."
President Barrow has a unique ability to connect earthly, daily activities to aspirational dreams for a more fantastic future and has told countless stories to connect emotionally with others who are separated from us by distance and time.
It is fair to say his abilities are rare.
President Barrow has joined the extensive list of all great men and women of reputation that have been honored with several honorary doctorates, and you will tell me that they do not self-aggrandize about it.
For example, Nelson Mandela had over ten honorary doctorates. As the world bade farewell to this great son of Africa, he was still addressed as Mr. Mandela. Robert Mugabe had read for over six degrees and has been awarded several honorary doctorates, but he prefers being addressed as Mr. Mugabe.
Others that have honorary doctorates but are too self-respecting to want to be called "Dr" include Barack Obama and Thabo Mbeki. So, drop this "Dr. Bishop, Professor, Sheikh thing; it is eroding the integrity of our education system.
It is a good thing that men and women in this country get recognised for their contribution to society in the fields of their choosing, such as politics, health, human rights, etc.
Some of these are recognised through awards of honorary doctorates by different institutions. The credibility or lack thereof of such institutions is not in my place to say for now. It is fair enough that one must be recognized for their efforts, and they must be duly congratulated.
Curiously, this seems to be more rampant in the Gambia, especially among political leaders; for example, former President Jammeh has the longest title and insignia in history, "His Excellency, President, Colonel, Doctor, Sheikh Nasiruddin Alhaji A. J.J Yahya, Babili Mansa Jammeh."
What type of self-deception is this? Look at it this way, can someone wake up and insist on being addressed as 'Brigadier General when he knows very well that he is a civilian without even cadet training?
However, what seems to be an issue is the absence of standards in such recognitions and the wide range of subjectivity involved such that an honorary doctorate accepted in one quarter may not be taken in other quarters.
Therefore, honorary doctorates are not meant to confer the title "Dr" to those awarded. These are mere decorations for contributions made to society. If you observe, all credible institutions in the UK and the US, for instance, advise recipients of honorary doctorates to refrain from using the title 'Dr.' beyond their dealings with the awarding institutions.
At the very least, a credible awarding institution will advise you to add, immediately after the title, that yours is an honorary doctorate.
What is disheartening in the Gambia is the indiscriminate way the public media begin addressing people with honorary doctorates as Dr. without due regard as to whether those people are entitled to use the title.
In this case, the media is at the forefront of confusing the public and cheapening academia. Tied to this is the silence by academia, who should know better and educate the population about this.
Besides, the recipients themselves have not helped matters. It beats me how someone with an honorary doctorate can insist on being addressed as "Dr," He or she is comfortable with it. It portrays them as being pretentious, self-aggrandizing, or vain.
They deserve the honorary doctorates, but ladies and gentlemen should refrain from addressing themselves as 'Dr.' because they certainly have not gone through the respectable yet rigorous study for an actual doctorate, which involves writing and defending a thesis before a panel of the cream of intellectuals.
Individuals who have acquired doctorates without working hard for them should drop the titles and not feel good about
academic fraud and go back to school.
We have to bring an end to this fraud because it is now going to get different thoughts in our children that you do not need to work hard, you do not need to go to school, you can go and contact dishonest, corrupt and bootlickers in low rated universities or the internet and pay US$5,000 or US$1,000 and be called a "Dr. Somebody."
I think those who hold those doctorates must feel ashamed of themselves. Some hold PhDs. They have had to spend something like ten years in university to get a Ph.D. How are they feeling knowing someone can go and pay, go for a degree, and be conferred with a degree in a hotel room, Presidential villas, or commencement ceremonies? This is so sad.
Moreover, I think for anybody who is being called a Doctor but did not work for it, let them hear me, let them feel shamed, drop the doctor's title, go back to school, and work hard for it.
Barack Obama was given an honorary doctorate, but he does not call himself 'Dr.,' And that is the way it should be. Nelson Mandela, Robert Mugabe, Thabo Mbeki, Macky Sall, and Jacob Zuma have many honorary doctorates. However, they do not call themselves 'Dr..' By convention, recipients of honorary doctorates do not use the title "Dr."
Many of our careerist politicians and businessmen were given the honorary title of "Doctor" of the letters when they never attended a formal community college or earned any academic degrees from the university.
Such honorary degrees are still being conferred by our universities today to honor men & women, politicians, people in business, or those who have not contributed significantly to society.
By doing so, political sycophancy & intellectual prostitution in our universities implicitly admit that knowledge does not only come from study or arduous work, practical performances but politics.
By Alagi Yorro Jallow