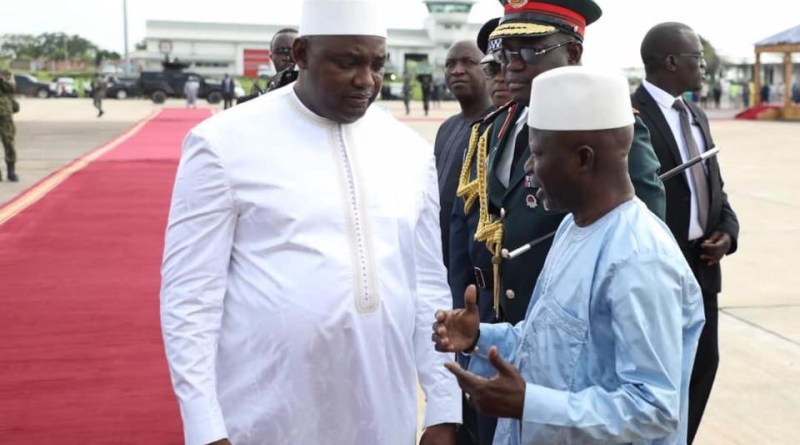 President Adama Barrow says he appointed his former political godfather, Ousainou Darboe, as foreign minister against advice that he was too old to handle the rigours of shuttle diplomacy.
Mr. Barrow was giving insight into the formation of his cabinet after the landmark 2016 election that saw former Gambian strongman, Yahya Jammeh, losing power.
He told Paradise TV in an interview that he granted Mr Darboe's requests for cabinet posts for him and his senior party members without any reservation or precondition.
"I told him I would give them (UDP) three ministerial positions but out of those three positions, I will make him (Ousainou Darboe) vice president. The two other positions, I told him (for the position of) Finance (minister), I don't think there is anyone who is qualified than Amadou Sanneh.
"I told him (Darboe) I can give it to him (Sanneh). The third post, I told him to choose which post he wants and he told me Local Government. I told him I can give them that too.
"He (Darboe) left and came and told me he cannot be vice president; that the constitution doesn't allow him because of his age. He came with Omar Sey and he said he would like to be Foreign minister. Omar Sey told him he cannot run the position of Foreign minister, that the job is too hard, with his age, that he should consider another position which is not Foreign minister. We suspended talks but he came back and said he would be able to be Foreign minister."
Darboe was appointed to the Foreign ministry position and he served for over a year before being appointed in a major cabinet reshuffle to the post of vice president. Before his VP appointment the constitutional age barrier was removed.
He served as VP until his dismissal in March this year after falling out with President Barrow over his second term bid.
President Barrow also disclosed his interaction with Halifa Sallah and Sidia Jatta of PDOIS during his cabinet selection. He said he offered the duo cabinet positions but they turned it down
"I called Halifa and told him I will give them two ministerial posts but I told him I want him to be part of that two. I also told him I wanted Sidia to be part of it.
"He said he would have to consult his party. He returned and said the (party's) Central Committee told him that they should not take the (cabinet) positions," the president said.