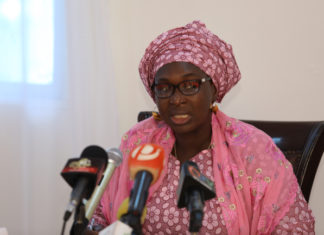 President Adama Barrow's communications chief has defended the president's handling of the coronavirus pandemic and his decision not to hug the limelight.
Amie Bojang Sissoho, director of Press and Public Relations, told the Fatu Network on Thursday that the president "cannot just go out and speak" as he needs the right information to be able to speak to the public.
The president has faced criticism for his handling of the coronavirus crisis and for failing to address the nation on his government's actions to keep Gambians safe from the deadly pandemic.
"It's okay for people to desire for the president to come [out] and talk. But they have to know that talking goes with responsibility and those responsibilities include having the right type of information," Ms Bojang-Sissoho told the Fatu Network.
"Because if the president comes out and speaks to the nation, that means it's an authoritative voice that is speaking. So he cannot just go out and speak when he has not gotten the right information at the right time to be able to do so.
"To be able to make a decision, you need to get the right type of information and from the right sources and those information processing, they go through a lot of processes in terms of from the technicians until it reaches the policy meeting level."