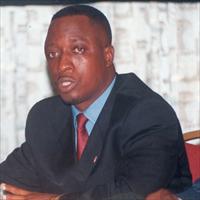 Former military junta official Yankuba Touray on Tuesday started testifying in his own trial at the high court in Banjul.
Mr Touray has been adversely mentioned before The Gambia's Truth, Reconciliation and Reparations Commission
(TRRC) in human rights violations and accused of taking part in the killing of former minister of finance Ousman Koro Ceesay.
But he denied the allegations before the court.
Mr Touray, 54, has been in remand at the Mile Two Central Prisons for months after he refused to give testimony before the TRRC.
Last week, Yankuba Touray agreed to testify in his own case before the high court judge.
Tuesday's trial began by Touray detailing his educational background and military career – and told the court he was enlisted in the Gambia National Army in 1986 and has attended a military course in Forte Benin in Georgia United States.
He will continue his testimony on Wednesday at the high court in Banjul.
Reporting by Adama Makasuba