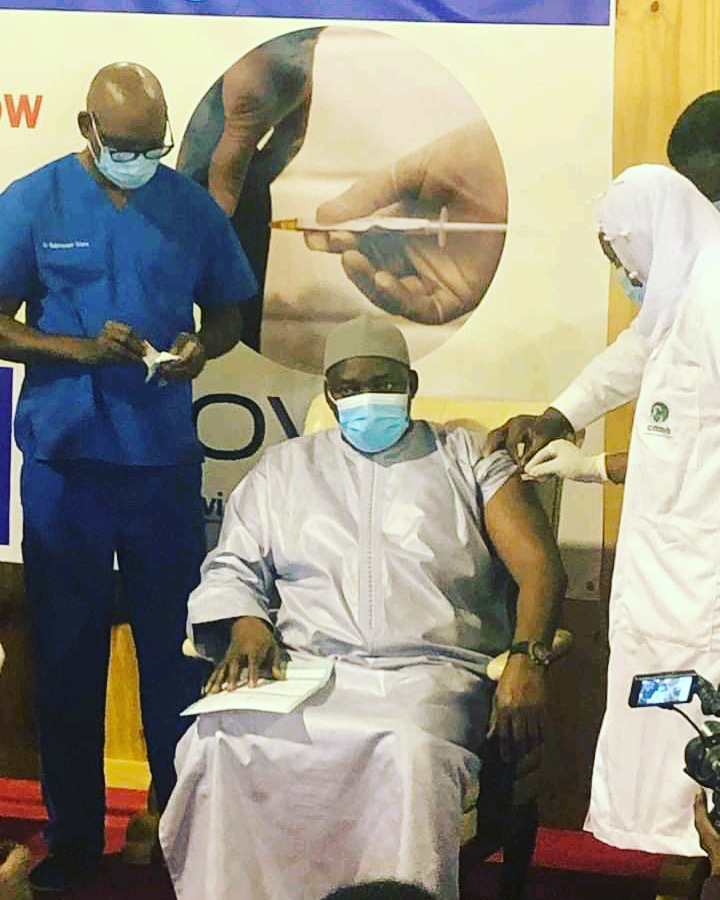 President Adama Barrow has advised the public against complacency over coronavirus prevention rules as he received his first dose of Covid-19 vaccine.
The president received the vaccine on live television as part of a growing effort to convince the public that the vaccines are safe.
Speaking at the launch of the national Covid-19 vaccination campaign at State House in Banjul, President Barrow advised "despite the availability of vaccines, new variants of the virus continue to emerge and ensure that we wear a mask properly in public, wash our hands properly, avoid hand shaking and practice social distancing."
Mr Barrow described the invention of the Covid-19 vaccines as 'relief' and urged the public that the vaccines are safe and effective.
"Let me remind you that the World Health Organisation [WHO] has confirmed the safety and effectiveness of the vaccines for prevention and control of Covid-19," he said.
Senior government officials including cabinet ministers also received the Covid-19. Health workers and vulnerable people are on the priority list as the nationwide vaccination campaign kicks off.
The Gambia has already received 36,000 doses of Covax AstraZeneca vaccine as well 10,000 doses of Shinpharm vaccine which were donated by the Senegalese government.
The Barrow government said it had secured a World Bank grant to buy 40% of vaccines to inoculate the rest of the population.
Reporting by Adama Makasuba