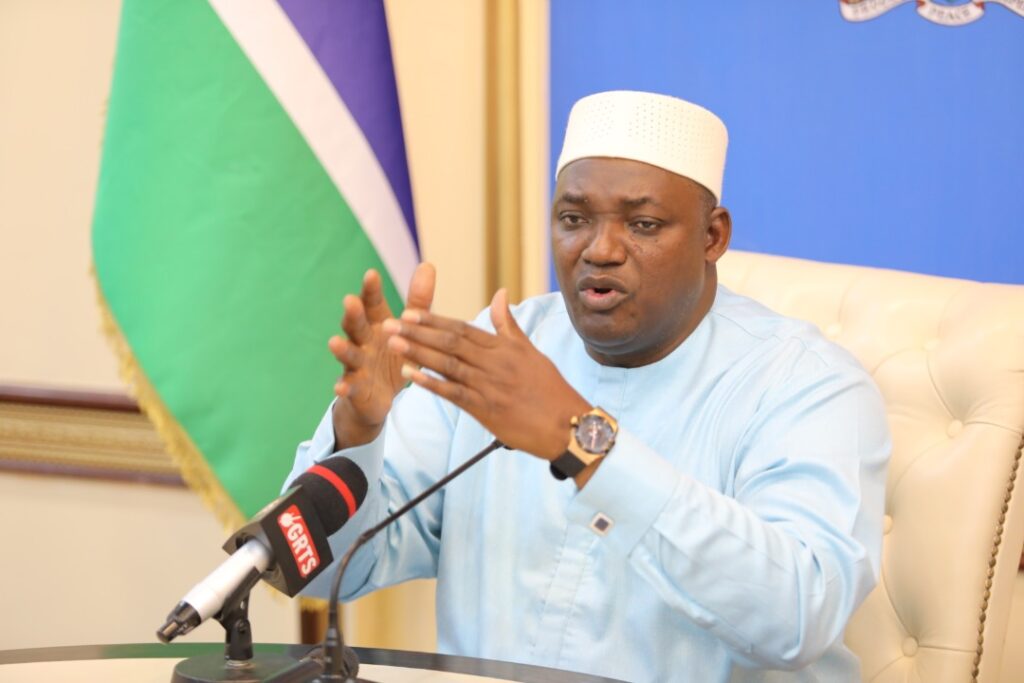 President Adama Barrow has declared a state of emergency giving the government additional powers to enforce a nationwide lockdown.
In a televised address to the nation on Friday the president outlined the drastic measures his government is taking to stop the spread of the coronavirus in the country. The state of emergency and nationwide lockdown come into effect tonight March 27.
The president said: "We know with certainty that mass movement of people and public gatherings are threats to the containment of COVID-19. Therefore, in addition to the measures mentioned in my last address, decision has been taken to impose new restrictions.
"I have now signed a second Proclamation declaring a state of public emergency throughout The Gambia.
Under this Proclamation, the following measures shall be enforced with effect from today, 27th March 2020: –
1. All non-essential food outlets in all markets and enclosed shopping areas shall be closed.
2. All non-essential public places, such as bars, cafeterias, cinemas, video clubs, gymnasiums, museums, night clubs, public swimming pools, events halls, casinos, gaming parlours and sporting venues shall be closed.
3. All public places of worship shall be closed.
4. The number of people attending any social gathering, such as weddings, naming ceremonies and funerals shall be restricted to a maximum of ten people.
5. All public transport shall carry half of the total number of passengers they are allowed to transport by law."
President Barrow clarified that essential services in the private sector will continue to operate during the nationwide lockdown.
"Notwithstanding the restrictions, the general public is reassured that essential services will continue. These include services provided by banks, petrol stations, traders and vendors in food and basic commodities in the markets, supermarkets and corner-shops.
However, this must be done in accordance with the WHO recommended social distancing guidelines."
The president said his government is vigilant in preventing the spread of coronavirus in the country and that the quarantine measures of people entering the country had been effective.
He warned Gambians not to shelter the people who absconded from the quarantine centres but to report them instead.
"With regards to the unfortunate incident of the people who absconded, almost half of them have been traced. The public is advised to report any person who has escaped quarantine, and to be aware that hiding suspects who pose a threat to public health is contrary to the laws of the land."
The president called for national unity in the fight to stop the spread of the coronavirus pandemic in the country.
"I urge all of us to take the pandemic as a serious threat which requires all our collaborative and cooperative efforts to overcome. Let us cooperate fully with the health and security authorities so that measures adopted to stop the spread of the coronavirus can be effective."
The Gambia has three confirmed cases of the coronavirus with one death. One test of a probable case is inconclusive. Thirty tests have already been done for the virus.