The iconic photo of Alaa Sallah in a white dress standing on the roof of a car chanting a revolutionary song became the defining moment of the Sudanese uprising. The photo went viral and brought international attention to Sudan, a country that was in the gripped of a 30-year-old brutal dictatorship.
Salah was pictured wearing a Thoub, a traditional Sudanese dress associated with Kandakas, while leading a group of female protestors in a revolutionary song. Kandakas were queens of the Nubian kingdom of Kush, which ruled much of what is now modern-day Sudan more than 3,000 years ago. The Thoub garment has become a symbol of the female protesters.
Salah said she caught the attention of protesters in Khartoum when she started chanting a revolutionary poem that spoke of the need for citizens to speak out against injustice. In the call to action, Salah sang, "The bullet doesn't kill. What kills is the silence of people." The poem is popular with protesters, and was chanted by demonstrators calling for the overthrow of Sudanese dictator, Omar al Bashir.
Bashir had been in power for 30 years before he was toppled by the army after a popular uprising by the Sudanese people. What started as a peaceful demonstration against the dire economic conditions in the country became a full blown peoples uprising against dictatorship.
Salah told the Guardian she was happy that the image, taken on Monday evening at a demonstration in the Sudanese capital, had been viewed so widely.
"I'm very glad that my photo let people around the world know about the revolution in Sudan … Since the beginning of the uprising I have been going out every day and participating in the demonstrations because my parents raised me to love our home."
The architecture student said she does not come from a political background, and took to the streets to fight for a better Sudan.
"The day they took the photo, I went to 10 different gatherings and read a revolutionary poem. It makes people very enthusiastic. In the beginning I found a group of about six women and I started singing, and they started singing with me, then the gathering became really big.
"I have practiced presenting at the university; I don't have an issue with speaking in front of people and at big gatherings."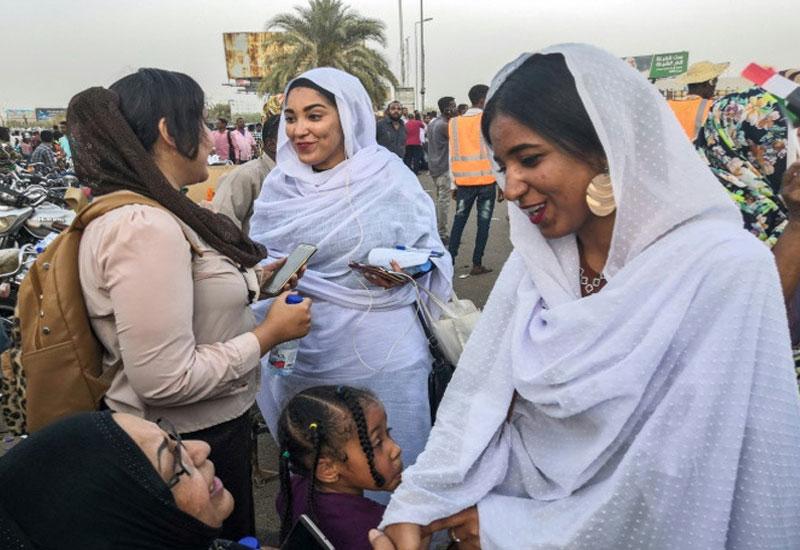 Salah's iconic photo which was posted on Twitter Tuesday by Lana H. Haroun had been widely shared on social media. Many people dubbed her the Sudanese Statue of Liberty.
Hind Makki, a Sudanese-American activist called the symbol of the revolution. "I'm pretty sure it's going to be the image of the revolution," said Makki.