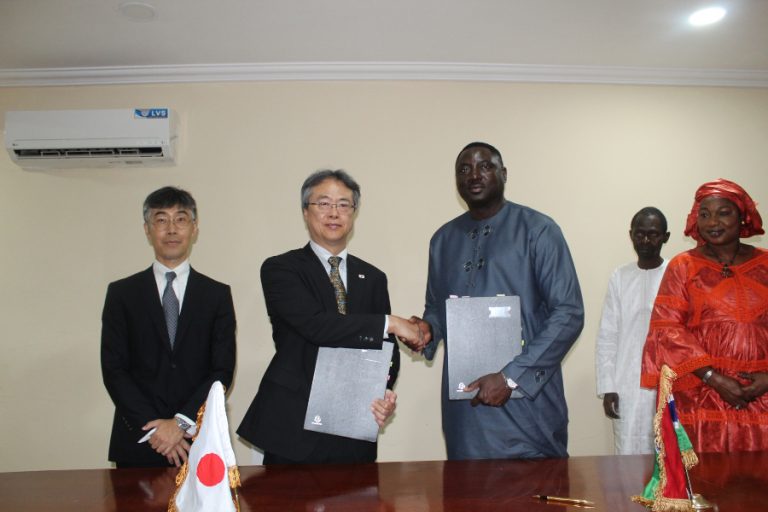 The Government of Japan is to provide $2.3 million food assistance grant to The Gambia government.
The food assistance, according to the Japanese government, is part of Japan's annual Official Development Assistance (ODA) to The Gambia.
In a signing ceremony on Saturday at the Atlantic Hotel, the minister of Foreign Affairs, Dr. Mamadou Tangara, said "the assistance is testament of Japan's commitment to work closely with the Government of The Gambia to addressing Gambia's food security situation and also part of efforts aimed at elevating Gambia – Japan bilateral relations".
Dr. Tangara thanked the Government of Japan for the level of support the country has so far received. He said discussions have been done with members of Japan's Parliamentary Council to the African Union on the margins of TICAD 7th in Yokohama, and The Gambia is working towards intensifying collaboration in the areas of agriculture, infrastructural development and capacity building for the youth.
He called on the Japanese private sector through the Japanese Embassy to invest in potential sectors of The Gambia's economy, including agriculture and fisheries.
He assured Ambassador Tatsuo Arai of the principle of transparency and accountability adding that "the government will ensure that the arrangements under this partnership is worked out to achieve Gambia's common objectives and support Japan's international commitment".
Dr. Tangara commended the government of Japan for its interventions in education, rural water supply, health, youth and sports and other development.
The Japan ambassador, Tatsuo Arai said that the two countries have fruitful cooperation in the areas of education, health, fisheries and food assistance.
He said the food assistance will alleviate food shortage, stabilise food price and socio-economic development through the utilisation of the counterpart fund.
He assured that Japan will continue to work with The Gambia Government in order to address the needs of the population.
Ambassador Arai said human security is one of the main pillars of Japan's Official Development Assistance, ODA, policies and the establishment of food security and food self-sufficiency holds a special importance in these policies.